Gantries use iron-core linear motors.
Press Release Summary: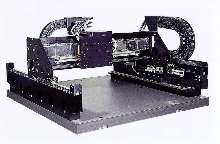 HPG High Precision Gantries produce accelerations of 50m/s², move at speeds up to 3 m/s, and provide bi-directional repeatability to ±2 µm. LC80 iron-core brushless linear motors require only single-sided magnet track to form linear motor assembly. Gantries come standard with single encoder per axis configuration. Travels range from 250-750 mm per axis. High-resolution optical encoders offer resolutions from 0.1-5 µm per count.
---
Original Press Release:

Anorad's New 'HPG' High Precision Gantries Raise the Benchmark for Performance and Value


Shirley, New York (March 6, 2003) - Rockwell Automation announces the immediate availability of Anorad's aggressively priced "HPG" High Precision Gantry product line. Anorad's HPG products use their new LC-80 iron core linear motors to deliver outstanding point-to-point positioning performance at extremely competitive prices. The HPG models are high-performance, low cost gantries that can produce accelerations of 50 m/s², move at speeds up to at 3 m/s, and can provide 3σ bi-directional repeatability to ± 2µm.

Anorad's High Precision Gantries feature a highly efficient layout that provides the best utilization ratio - ratio of system travel to overall footprint - of any iron core linear motor gantry on the market today. The high force LC80 linear motors, combined with the gantry's low mass, rigid X-axis crossbeam, maximize the system's throughput.

The robust LC80 iron core brushless linear motors have a very high power density, and unlike balanced (dual-magnet channel) epoxy core motors, require only a single-sided magnet track to form the linear motor assembly. This substantially decreases the system's rare-earth magnet cost for both axes. To further reduce implementation costs, the High Precision Gantries come standard with a single encoder per axis configuration. This simplifies the motion control architecture to bring down total system part count and minimize programming and operational complexity.

Like all Anorad Precision Gantry Products, these new systems are available with an array of custom configurable options to best suit your particular application. The systems come in travels ranging from 250 mm to over 750 mm per axis. Single and dual motor Y-axis drive options are offered to meet specific speed and payload demands. Anorad can also provide a low-cost rigid base made from either their proprietary Anocast(TM) vibration damping polymer composite or an anodized aluminum base plate and risers (as shown). Rugged high resolution optical encoders are standard (resolutions available from 0.1 to 5 µm per count) along with high-flex strain relieved cables neatly bundled in modular cable carriers.

The High Precision Gantries are ideally suited for applications requiring high throughput point-to-point motion. These move profiles are common in electronics assembly and many types of precision automation. Typical applications include Automated Optical Inspection (AOI) and high-speed positioning of pick-and-place heads for surface mount (SMT) and through-hole components. In addition to all these features, the High Precision Gantries can be supplied with many desirable value-added options including Z&T axis modules, servo drive and control packages, machine frames, enclosures and the complete line of over 500,000 world-class industrial automation products available only from Rockwell Automation.

Anorad Corporation, the precision motion control division of Rockwell Automation, produces ultra-high precision positioning stages, motion systems, linear motors, and servo controls for demanding original equipment manufacturers in the semiconductor, electronics, flat panel, photonics, hard disk and precision automation equipment markets. The company is headquartered in Shirley, New York, and has additional operations in Israel and the Netherlands. For more information on Anorad's products and services, visit www.anorad.com

Rockwell Automation (NYSE: ROK) is a world leading provider of industrial automation, power, control, and information solutions that help customers meet their manufacturing productivity objectives. The company brings together leading brands in
industrial automation for Complete Automation(TM) solutions, including Allen-Bradley® controls and engineered services, Rockwell Software®& factory management software, Dodge® mechanical power transmission products, and Reliance Electric motors and drives. The company is also a leading provider of contact management technologies and applications that
help companies more efficiently manage interactions with their own customers. Headquartered in Milwaukee, WI, USA the company employs approximately 23,000 people at more than 450 locations servicing customers in more than 80 countries.

More from Controls & Controllers