GaN Power Amplifiers offer high gain at up to 7.5 GHz.
Press Release Summary: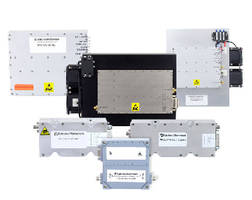 Featuring high gain levels of 43–60 dB across broad frequency bands from 30 MHz to 7.5 GHz, Solid State GaN RF Amplifiers are suited for commercial and military radar, jamming systems, medical imaging, communications, and electronic warfare. Saturated output power levels range from 10–100 W with up to 35% Power Added Efficiency. All have single voltage supplies which are internally regulated. Amplifiers also feature harmonic response of -15 to -20 dBc under worst case conditions.
---
Original Press Release:

Fairview Microwave Introduces a Brand New Portfolio of Solid State GaN Power Amplifiers from Stock



New GaN SSPAs from Fairview Offer High Power and Gain across Frequencies Up to 7.5 GHz



Allen, TX - Fairview Microwave Inc., a supplier of on-demand microwave and RF components, releases a brand new line of solid state GaN (Gallium Nitride) amplifiers. These new GaN power amplifiers offer designers a unique solution of off-the-shelf components, typically requiring months of lead time to acquire.



The rugged connectorized amplifier designs from Fairview have the advantage of high output load impedance that offers easier impedance matching over wider bandwidths using lower loss components. The high thermal conductivity of Gallium Nitride helps to dissipate heat more effectively which results in amplifier designs that have significantly higher output power levels over broadband and narrowband frequencies. Common applications include commercial and military radar, jamming systems, medical imaging, communications and electronic warfare.

                       

Fairview's newest offering of GaN RF amplifiers includes models that feature very high gain levels from 43 to 60 dB across mostly broad frequency bands ranging from 30 MHz to 7.5 GHz. Saturated output power levels range from 10 watts to 100 watts with up to 35% Power Added Efficiency (PAE). All of the high power GaN amplifiers from Fairview have single voltage supplies which are internally regulated. The 50 ohm input/output matched designs are adaptable to a range of power and modulation requirements. These GaN solid state power amplifiers also show impressive harmonic response (-15 to -20 dBc) under worst case conditions. This selection of GaN amplifiers are designed to withstand environmental conditions such as humidity, altitude, shock and vibration. Some models are also equipped with integrated heat sinks and cooling fans. Most designs are EAR99.



"Fairview's new selection of GaN power amplifiers offer engineers and designers a unique off-the-shelf, in-stock solution which would otherwise take months to acquire," explains Brian McCutcheon, Vice President and General Manager at Fairview Microwave.



Fairview's new GaN amplifiers are in-stock and ready to ship today. You can view the new GaN SSPAs by visiting https://www.fairviewmicrowave.com/rf-products/gan-power-amplifiers.html  directly. Fairview Microwave can be contacted at +1-972-649-6678.



About Fairview Microwave

A leading supplier of on-demand RF and microwave products since 1992, Fairview Microwave offers immediate delivery of RF components including attenuators, adapters, coaxial cable assemblies, connectors, terminations and much more. All products are shipped same-day from the company's ISO 9001:2008 certified production facilities in Allen, Texas.



Press Contact:

Brian McCutcheon

Fairview Microwave

1130 Junction Drive #100

Allen, Texas 75013

(972) 649-6678

Related