GaN-on-Si LEDs promote luminous efficacy and reduce power draw.
Press Release Summary: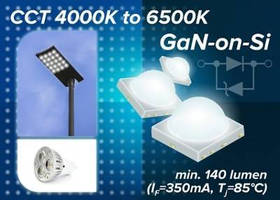 Exhibiting luminous efficacy of 165 lm/W min under T
a
=25°C, TL1L4 series (4A5B type) utilizes Gallium Nitride-on-silicon (GaN-on-Si) wafer technology and comes in 3.5 x 3.5 mm lens package. Available CCTs are 6500K, 5700K, 5000K, and 4000K, and CRI is Ra70. Supporting max forward current of 1.5 A at T
a
<55°C and T
j
<150°C, LEDs can serve such applications as street lights, floodlights, high/low bay lights, base lights, and downlights.
---
Original Press Release:

Toshiba's GaN-on-Si LEDs Achieve Industry-Leading Luminous Flux



New Lineup of High Power White LEDs Optimized for Output, Power Efficiency



IRVINE, Calif. – Toshiba America Electronic Components, Inc. (TAEC)*, a committed leader that collaborates with technology companies to create breakthrough designs, today announced that it has added four new products to its TL1L4 series of Gallium Nitride-on-silicon (GaN-on-Si) high power white LEDs. The TL1L4-DW0, TL1L4-NT0, TL1L4-NW0, and TL1L4-WH0 can contribute to improving the luminous efficacy and lowering the power consumption of LED lighting. The new TL1L4 series (4A5B type) achieves a high luminous efficacy of 165lm/W(min.) under Ta=25 degrees C,( [1)  and is small in size, making the products appropriate for use in lighting applications including street lights, floodlights, high/low bay lights, base lights and down lights.



The four new LEDs have correlated color temperatures (CCT) of 6500K/5700K/5000K/4000K, with a color rendering index of Ra70. The new additions to the TL1L4 series make it possible to meet the market requirements for lighting fixture efficacy of over 110lm/W([2), and can contribute to improving luminous efficacy and lowering power consumption in LED lighting applications. The TL1L4 series utilizes cost-effective GaN-on-Si wafer technology to create LEDs optimized for both output and power efficiency.



The devices are housed in a compact 3.5 x 3.5mm lens package and rated to support an absolute maximum forward current of 1.5A max at Ta<55 degrees C and Tj<150 degrees C. Hot binning tests for electrical and optical characteristics are conducted at 85 degrees C and I(F)=350mA that simulate real-life operating conditions.







Part Number



Color Temperature
(K)



Luminous Flux (lm/W)



Color Redering Index
(Ra)



Forward Voltage
VF (V)



Package
Lx W (mm)





@Ta=25°C



@Tj=85°C





TL1L4-DW0,L4A5B



6500



165



140 (min.)



70 (min.)



2.8



3.5 x 3.5





TL1L4-NT0,L4A5B



5700



165



140 (min.)



70 (min.)



2.8



3.5 x 3.5





TL1L4-NW0,L4A5B



5000



165



140 (min.)



70 (min.)



2.8



3.5 x 3.5





TL1L4-WH0,L4A5B



4000



165



140 (min.)



70 (min.)



2.8



3.5 x 3.5







For more details, samples and pricing information, please contact your local Toshiba Sales Office.



*About Toshiba Corp. and TAEC



About TAEC

Through proven commitment, lasting relationships and advanced, reliable electronic

components, Toshiba enables its customers to create market-leading designs. Toshiba is the heartbeat within product breakthroughs from OEMs, ODMs, CMs, VARs, distributors and fabless chip companies worldwide. A committed electronic components leader, Toshiba designs and manufactures high-quality flash memory-based storage solutions, solid state drives (SSDs), hard disk drives (HDDs), solid state hybrid drives (SSHDs), discrete devices, custom SoCs/ASICs, imaging products, microcontrollers, wireless components, mobile peripheral devices, advanced materials and medical tubes that make possible today's leading smartphones, tablets, cameras, medical devices, automotive electronics, industrial applications, enterprise solutions and more.



Toshiba America Electronic Components, Inc. is an independent operating company owned by Toshiba America, Inc., a subsidiary of Toshiba Corporation, Japan's largest semiconductor manufacturer and the world's sixth largest semiconductor manufacturer (Gartner, 2014 Worldwide Semiconductor Revenue Estimates, December 2014). Founded in Tokyo in 1875, Toshiba is at the heart of a global network of over 590 consolidated companies employing over 200,000 people worldwide. Visit Toshiba's web site at www.toshiba.co.jp/index.htm.



For additional company and product information, please visit http://www.toshiba.com/taec/.



Notes:

[1 Test conditions: I(F)=350mA, T(a)=25 degrees C

[2 Under conditions of 80% driver efficiency, 90% optical efficiency, Tj=85 degrees C

Industry's leading luminous flux as of February 4, 2015. Toshiba survey



© 2014 Toshiba America Electronic Components, Inc. All rights reserved.

Information in this press release, including product pricing and specifications, content of services and contact information,  is current and believed to be accurate on the date of the announcement, but is subject to change without prior notice.  Technical and application information contained here is subject to the most recent applicable Toshiba product specifications.



MEDIA CONTACT:

Dena Jacobson

Lages & Associates

Tel.: (949) 453-8080

dena@lages.com



CONTACT:

Rebecca Bueno

Toshiba America Electronic Components, Inc.

Tel.: (949) 462-7885

rebecca.bueno@taec.toshiba.com



Web Site: http://www.toshiba.com/taec