GaMra Composites Grows Custom Shop with Super Blue® Extruders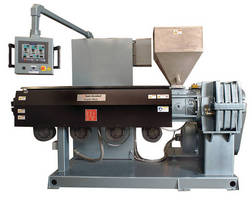 (Pawcatuck, Conn.)--The short delivery cycle and consistent performance of the Davis-Standard Super Blue® extruder has yielded impressive results for GaMra Composites, Inc. of Hudson, Wisconsin. GaMra purchased three Super Blue extruders over the past year to support its specialty extrusions business, which has more than doubled every year since 2007. The company manufactures custom profiles used in industrial hoses, electrical signage, lighting systems and window blinds.

"We have been a Davis-Standard customer since we started the business 10 years ago. The Super Blue extruders have addressed our needs as customer demands have dictated," said Greg Mitsch, President of GaMra. "There is a short lead time and the extruders were up and running quickly. We feel like the return on our investment has been almost immediate. These machines are quiet, reliable and a very good value. They are such a good value that it makes sense to pay a few thousand more to purchase a new Super Blue over a used machine."

A short lead-time is significant for extruders like GaMra because of unique customer requirements. According to Mitsch, the first Super Blue ordered in February of 2009 was shipped within seven days and operating in four days after it was received. This enabled GaMra to respond almost instantly to new business. In addition to the quick turnaround, the extruders have been ideal for the company's profile and crosshead extrusion processes, which involve PVC, Nylon 6 and Nylon 12 among other resins. The company is capable of producing a range of parts with tolerances as low as plus or minus .003-inch (.08mm). The majority of GaMra's business is in the U.S., but they also ship to China, Mexico, India and Brazil.

"One of our greatest advantages is that we serve non-traditional markets and manufacture parts that other extruders don't want to produce. This includes complex profiles, smaller runs, nylon extrusion and other diversified products," said Mitsch. "Our in-house capabilities give us a significant advantage and we are very good at managing the supply chain from start to finish. We help our customers with the product, the process and pricing. The Super Blue fits in with our philosophy of quality and cost-reduction to keep prices affordable for our customers. We will definitely purchase more of these extruders as needed."

The Super Blue is available in 2-inch (50mm), 2 ½-inch (65mm), 75mm, 3 ½-inch (90mm), 100mm, and 4 ½-inch (114mm) sizes, each with a 24:1 L/D ratio. Extruders in 30:1 ratios are available in 75mm, 3 ½-inch (90mm) and 4-1/2 inch (114mm) sizes. It is equipped with preferred features including a low noise, high torque double-reduction gearbox; cast aluminum finned heaters bolted to the barrel to ensure barrel-to-heater contact; a brushless AC drive and motor; and a high capacity, highly efficient air cooling system. The Super Blue is engineered for custom profile and tubing applications as well as basic wire and cable and film applications.

For more information about GaMra, visit www.gamra.com. For more information about the Super Blue, contact Wendell Whipple at wwhipple@davis-standard.com.

More from Printing & Duplicating Equipment