Gamma-Ray Spectrometer suits counting laboratory applications.
Press Release Summary: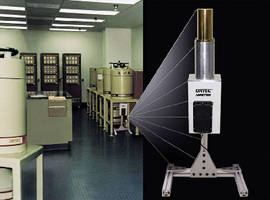 Intended for fixed and mobile counting room applications, LDM100-GEM Laboratory Detector Module is based on high-purity Germanium detector element that is cooled by miniature cryocooler rather than conventional liquid nitrogen. Self-contained module is powered from 10-17 Vdc supply and has built-in battery backup that allows it to run 3 additional hours in event of power failure. Generating less than 20 W of waste heat, spectrometer is suited for small or confined spaces.
---
Original Press Release:

Ametek Introduces Laboratory Detector Module



LDM100-GEM Is an Integrated HPGe Gamma Spectrometer for Laboratory Applications

OAK RIDGE, TN- The ORTEC® Products Group of AMETEK Advanced Measurement Technology (AMT) has introduced the LDM100-GEM, an integrated gamma-ray spectrometer for fixed and mobile counting room applications. The self-contained Laboratory Detector Module (LDM) builds upon technologies developed for the ORTEC Detective family of portable nuclide identifiers that are deployed for Homeland Security applications around the world.

"The LDM100-GEM represents a natural progression for a technology initially developed for Homeland Security but equally applicable for counting lab applications," notes Tim Twomey, ORTEC Product Manager. "It is a compact, all-in-one unit that is quiet in operation and that generates very little waste heat (less than 20 watts) making it ideal for small or confined spaces."

"At the heart of the LDM100-GEM is a high-purity Germanium (HPGe) detector element that is cooled by a miniature cryocooler rather than conventional liquid nitrogen. The Germanium crystal is encapsulated within a highly reliability cryostat so that there is no need to thermal cycle during a partial warm up. Miniature Stirling Cycle coolers have proven highly reliable for cooling ORTEC HPGe detectors in the field. Now, in the LDM100-GEM, we have adapted them for use in a laboratory environment," notes Twomey.

The LDM100-GEM is powered from a small 10-17V DC supply and has a built-in battery back up that allows it to run an additional three hours in the event of a power failure. The LDM also has a built-in a high-stability digital signal processor. All that is required for a complete gamma spectrometry system is a power source (AC or DC) and a PC on which to install the accompanying MAESTRO® MCA software.

"The all-in-one configuration of the LDM100-GEM along with its small laboratory footprint and low- power consumption make it highly desirable for counting laboratories, where space is often at a premium and energy efficiency a plus," concludes Twomey.

ORTEC Products Group of AMETEK AMT has nearly 50 years experience in the design and manufacture of highly sensitive radiation detectors that are used by government and industrial laboratories, nuclear facilities and medical research and in nuclear safeguards. It is one of only two manufacturers worldwide with the ability to produce both high-purity germanium and high-resolution radiation detectors from it. ORTEC also is a leader in systems, digital signal processing electronics and software associated with such applications.

For more information, contact ORTEC Products Group, 801 South Illinois Avenue, Oak Ridge, TN 37831-0895. Telephone: 865-482-4411, Toll free: 800-251-9750. Fax: 865-483-0396. Website: www.ortec-online.com

AMETEK AMT is a division of AMETEK, Inc., a leading global manufacturer of electronic instruments and electromechanical devices with 2008 sales of more than $2.5 billion.

Related