Galvanized Nails feature corrosion resistance.
Press Release Summary: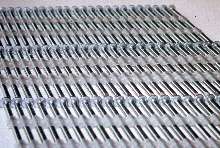 Hot Dip Galvanized Nails meet or exceed building code requirements for corrosion resistance, including ASTM A-153-Class D. They feature 22° full head and are offered in smooth, ring, and screw shank. Sizes range from 2½-3¼ in. in length and .120-.131 in. dia. Weather-resistant, plastic collation reduces broken strips and enables year-round production. Nails are suited for coastal framing, pier construction, and other exterior applications.
---
Original Press Release:

New Duo-Fast Hot Dipped Galvanized Nails Offer Increased Corrosion Resistance, Performance


DUO-FAST® now offers new hot dip galvanized nails that feature increased corrosion protection, ease of drive and an advanced collation method to ensure improved fastening performance on the job site.

"With up to 10 times more zinc than competitive fasteners, these nails are designed for erosive applications such as coastal framing, pier construction and other exterior applications," says Paul Johnson, marketing services manager for DUO-FAST. "Many local inspectors in coastal areas already require the use of hot dip galvanized nails over electro galvanized fasteners because of their superior corrosion resistance."

DUO-FAST Hot Dip Galvanized nails meet or exceed building code requirements for corrosion resistance, including ASTM A-153-Class D, the highest standard of galvanization.

In an independent salt spray and corrosion study, hot dip galvanized nails performed more than three times better than electro galvanized nails, and two times better than mechanical galvanized nails, according to Johnson. After a 1,108-hour prohesion test that simulates mildly corrosive environmental conditions, hot dip fasteners had only one percent rust on the nail head versus 19 percent for mechanical galvanized and zero percent rust on shank versus mechanical galvanized with 22 percent.

The nails also feature a flexible plastic collation design, which reduces broken strips. And weather resistant plastic collation enables year-round production, even in wet weather.

The 22-degree full head hot dip galvanized fasteners are available in smooth, ring and screw shank, in sizes ranging from 2 1/2 - 3 1/4 inches in length and .120 to .131 inches in nail diameter. These fasteners are designed for use with Duo-Fast's NSP35OF1 MainFrame® and CN350B pneumatic tools.

DUO-FAST is a leading manufacturer of fastening systems, which include tools and fasteners engineered for professional use in construction, remodeling, and a variety of manufacturing applications. Tools include air-powered nailers, electric and manual staplers, plus a complete range of genuine fasteners to support current and previous DUO-FAST tool offerings.

DUO-FAST products are sold and supported by a network of North American distributors, as well as international distributors in over 20 countries on five continents. In addition, DUO-FAST draws on the global resources of its parent company, Illinois Tool Works, Inc., a diversified manufacturer of engineered components and systems, including many specifically for the construction market.

For further information on DUO-FAST tools and fasteners, contact the company at 800/682-3428 ext. PR, or visit the company's Web site at (www.duo-fast.com).

More from Controls & Controllers