G5 Series Measurement Amplifiers come with FM approvals.
Press Release Summary: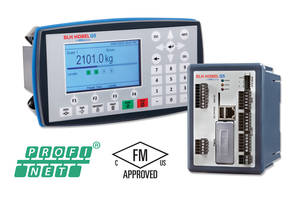 G5 Series Measurement Amplifiers offer PROFINET support module and french and german language accessibility. Unit's module allows user to create seamless end-to-end, integrated processes and network interface configurations. Product is equipped with standard interfaces and is embedded with onboard integral web servers. Amplifiers are available in panel mount versions and provide remote diagnostics, parameterization, backup and maintenance functions.
---
Original Press Release:
BLH Nobel Announces PROFINET Support, FM Approvals, and New Language Features for Industry Best-Selling G5 Series Measurement Amplifiers
The BLH Nobel brand of Vishay Precision Group (NYSE: VPG), experts in standard and custom process weighing and force measurement solutions, including high-quality and high-accuracy weighing and control systems, today announced the addition of PROFINET support, Factory Mutual (FM) approvals, and French and German language accessibility for its industry best-selling G5 Series measurement amplifiers (G5 Series).
The new PROFINET support module for the BLH Nobel G5 Series allows the modern, user-friendly measurement amplifiers the necessary flexibility to keep pace with the very latest Industrial Ethernet automation standards in Asia and Europe. The module may be plugged into the back of the G5, in the same manner as its Ethernet IP module. This next-generation PROFINET support further allows the end user to create seamless end-to-end, integrated processes and network interface configurations, with fast and secure data exchange. G5 Series measurement amplifiers offer continued ease of calibration and remote access with common field busses, with intuitive user-friendly setup via web browser or keyboard. For customers based in the United States and Canada, the addition of FM approvals provides added assurances that G5 Series measurement amplifiers meet only the highest standards for property loss prevention and safety. They further allow the G5 Series to be used within an increasing series of control and process industry applications where such approvals may be required. Additional full language support in French and German, including complete menus and software, join the existing English and Swedish versions. Short form manuals are available in all four languages.
G5 Series measurement amplifiers from BLH Nobel combine standard interfaces, a modular design, and onboard integral web servers, in support of advanced weighing and process control applications. They offer streamlined commissioning and calibration; reduced operations and maintenance costs; and advanced communication protocols for optimized system efficiencies, including remote diagnostics, parameterization, backup and maintenance functions. A February 2017 firmware upgrade (v1.3.0) added new capabilities such as flow rate calculation, enhanced diagnostics, excitation current measurement and supervision, along with updated Fieldbus data mapping, and an EtherNet/IP interface. Panel mount versions of the G5 Series were further certified "legal for trade" in May 2017, per EN45501:2015 and the International Organization of Legal Metrology (OIML), for R76 Class III or IIII single-interval industrial use criteria (NTEP approvals pending). Other features may be available upon request. Please consult BLH Nobel for details.
For more than 40 years, the BLH Nobel brand of VPG has specialized in the design, development and manufacture of high-quality and high-accuracy process weighing and force measurement technologies and related control systems. BLH Nobel load cells maximize accuracy and minimize the effects of mixing, agitation, and temperature changes within critical process stages. BLH Nobel products and customized solutions are designed to comply with stringent requirements in the food and beverage, pulp and paper, pharmaceutical manufacturing, medical equipment, process, mining, steel, and offshore industries. The brand further offers a wide variety of communication protocols for seamless integration within complex production lines. It also supplies system solutions, products, and services in more than 100 countries worldwide. Each BLH Nobel custom solution is derived from more than 40 years of engineering expertise, gained from across thousands of successful applications. For more information on these and other product offerings, visit www.blhnobel.com.
Product page link: http://www.blhnobel.com/pca/src/#/instruments
Manuals link: http://blhnobel.com/support/manuals
About VPG
Vishay Precision Group, Inc. is an internationally recognized designer, manufacturer and marketer of: components based on its resistive foil technology; sensors; and sensor-based systems specializing in the growing markets of stress, force, weight, pressure, and current measurements. VPG is a market leader of foil technology products, providing ongoing technology innovations in precision foil resistors and foil strain gages, which are the foundation of the company's force sensors products and its weighing and control systems. The product portfolio consists of a variety of well-established brand names recognized for precision and quality in the marketplace. To learn more, visit VPG at www.vpgsensors.com.
About BLH Nobel
VPG's BLH Nobel brand is a world leader in process weighing and force measurement, producing high-quality and high-accuracy weighing and control systems. BLH Nobel load cells maximize accuracy and minimize the effects of mixing, agitation, and temperature changes in critical process stages. The brand´s products and customized solutions are designed to comply with stringent requirements of the pulp and paper industry, as well as process, mining, steel, and offshore industries. BLH Nobel offers a wide variety of communication protocols used in complex production lines and supplies system solutions, products, and services in more than 100 countries around the world. www.blhnobel.com
Related