G.L. Huyett Rolls Out Dowel Pins Line Expansion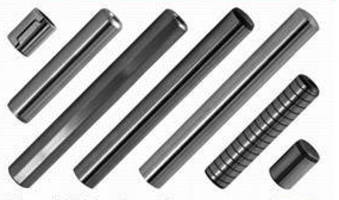 G.L. Huyett, an ISO 9001 certified manufacturer, master distributor, and importer of non-threaded fasteners and grease fittings, has expanded their lines of hardened and unhardened ASME, DIN, and MS precision ground dowel pins.



Minneapolis, Kansas – G.L. Huyett, a manufacturer, master distributor, and importer of non-threaded fasteners and grease fittings, is proud to offer a larger selection of sizes, materials, hardness, and micro-finishes for a variety of styles of Heritage™ brand precision ground steel dowel pins and SPIROL® ground hollow dowels.



G.L. Huyett is announcing a significant expansion of their precision ground steel dowel pins to include more than $1,000,000 in inventory and more than 2,000 SKUs. The Company's CEO, Tim O'Keeffe, explains that "dowel pins are a category of industrial fasteners that have been the subject of frequent confusion among designers, engineers, buyers, and purchasing departments."



Dowel pins are precision ground steel fasteners used as locking devices, pivots, hinges, shafts, jigs, or fixtures to align parts within machinery. They are designed to achieve maximum holding power and absorb lateral stress while providing a secure joint without altering the shape or impacting the frame of the finished piece. The majority of styles available feature radiused and/or chamfered ends to ease installation and facilitate quick disassembly and/or re-assembly. These versatile pins aide in alignment and eliminate play in automotive, agricultural, aerospace, and other manufacturing applications.



In an attempt to eliminate the complexities of identifying and buying industrial dowel pins, G.L. Huyett has produced an informative, comprehensive catalog of pins along with a new dowel pin specific brochure featuring technical specifications, applicable industry standards, part illustrations, technical drawings, design considerations, and examples of applications where dowel pins are frequently used.



"We've expanded our dowel pins lines to make it easier for our customers to find and buy hard to find parts in the quantities they need," explains Greg Tabor, VP of Marketing. "G.L. Huyett purchases dowel pins in high volume from manufacturers who are often hard to buy from because of their minimum order quantity requirements or expensive transaction costs. We then sell the buyer's desired quantity to satisfy JIT demands which prevents overstocked and unused parts. This expansion is a continuation of our strategy to offer a comprehensive parts mix with an ease of transaction supported by a new Pins Catalog and an easy to use e-commerce website, www.huyett.com, that provides 24-hour access to more than 95,000 parts in over 600 product lines. G.L. Huyett offers a broad range of pins, retaining rings, keystock and machine keys, shafting and shaft collars, and assortments.



G.L. Huyett manufactures and distributes a variety of styles, sizes, materials, and micro-finishes including inch and metric hardened dowel pins as well as oversized, ground hollow, and internally threaded pullout, flat vent, and grooved dowel pins.



Standard Dowel Pins

ASME B18.8.2 standard dowel pins have a radius on one end and a chamfer on the other. These unhardened DIN 7 pins have a spherical radiused crown on each end.



Hardened Dowel Pins

Metric DIN 6325 dowel pins are hardened for heavy duty use. They have a tapered radiused crown on one end and a spherical radiused crown on the other.



Oversized Dowel Pins

ASME B18.8.2 oversized dowel pins are typically used in aftermarket applications. They have a radius on one end and a chamfer on the other, and are .001" oversized to fit into worn or out-of-round holes.



Ground Hollow Dowel Pins

Lightweight cylindrical rolled pins are designed to replace standard dowel pins in applications where centerline tolerancing and precision alignment are required. They are well suited for applications where additional materials must pass through the work piece, or where weight is a determining factor in part selection.



Pullout Dowel Pins

Internally threaded cylindrical pins with chamfers on both ends for use in blind holes. Metric pullout dowel pins are manufactured to DIN 7979D specifications.



Flat Vent Dowel Pins

Flat vent dowel pins are identical to pullout dowel pins with the added feature of a slightly flattened side which allows gas or liquid to escape during installation.



Grooved Dowel Pins

External grooves are cut in a spiral along the entire length of these pins to allow gas or liquid to escape during insertion while maintaining a 360° circumference contact with mating components. Internal threads ease their removal from blind holes.



"The breadth of our in stock, ready to ship dowel pin selection makes it easy for our customers to get what they need, when they need it," added O'Keeffe. "We also have a well-trained, knowledgeable Sales staff, Engineering Support, and an easy to use website to make buying fasteners easy."



To request or download a free copy of G.L. Huyett's Pins catalog or new Dowel Pins brochure, visit www.huyett.com or call 785-392-3017.



Boilerplate

About G.L. Huyett



Established in 1906 by Guy Huyett in the "other Minneapolis," the company is one of the oldest continuously operating businesses in Kansas. Founded on the production and distribution of machinery bushings, in the 1990's, entrepreneurial owners Tim and Carol O'Keeffe recognized huge potential in offering low order minimums, fast shipping, and expanding product offerings to a complete inventory of pins, retaining rings, grease fittings and accessories, bushings, washers, shims, shaft collars, assortments, and tools.



More from Packaging Products & Equipment