Fusion Machine butt fuses 2 in. IPS to 6 in. DIPS.
Press Release Summary: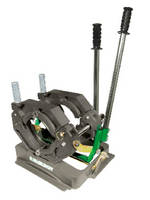 Designed to fuse pipes from 63-180 mm, PitBull® 26 features Centerline Guidance System and hard anodized aluminum wear surfaces for corrosion resistance. Semi-automatic locking cam maintains force during cooling cycle, while thrust-bearing-equipped clamp knobs minimize torque required to clamp and round pipe for fusion operations. Three models include 6 in. DIPS with 100-120 V input voltage, 6 in. DIPS with 220-240 input, and 180 mm unit with 220-240 V input requirement.
---
Original Press Release:

McElroy's PitBull 26 is Unleashed



New fusion machine butt fuses 2-inch IPS to 6-inch DIPS (63mm - 180mm)

TULSA, Okla. - The new PitBull® 26 fusion machine from McElroy has been unleashed. The machine can fuse a variety of pipe sizes in the popular 2-inch IPS through 6-inch DIPS (63mm through 180mm) range.

Due to the growing popularity of the size range, the PitBull 26 was designed to provide contractors a go-to machine for their day-to-day fusion operations. The design of the machine is similar to one of McElroy's best-selling machines, the PitBull 14.

"We are a customer-centric company. We knew from market feedback that we had to provide our customers a great fusion machine designed for the demands of this popular pipe size range," said Chip McElroy, president of McElroy.

Much like the PitBull 14 machine, the 26 features McElroy's patented Centerline Guidance System, a semi-automatic locking cam, hard anodized aluminum wear surfaces for corrosion resistance and thrust-bearing-equipped clamp knobs that minimize the torque required to clamp and round the pipe for fusion operations. The unit can also fit on McElroy's Manual Fusion Machine Stand to bring the process to a more comfortable height for the operator.

Three PitBull 26 machine models are available - a 6-inch DIPS with a 100- to 120-input voltage requirement, a 6-inch DIPS with a 220- to 240-input voltage requirement and a 180mm unit with 220- to 240-input voltage requirement. Each PitBull 26 machine comes with the fusion machine, facer, heater, insulated heater stand, facer stand, 6-inch IPS insert set and a screw/driver kit.

For more information, visit the McElroy website at www.mcelroy.com.

100-Word Description for Product Spotlights/Reviews

McElroy's new PitBull® 26 fusion machine is compact, lightweight and rugged with the ability to butt fuse pipe sizes from 2-inch IPS through 6-inch DIPS (63mm to 180mm) and all models come standard with a 6-inch IPS insert set. With a design similar to the McElroy's popular PitBull 14, the PitBull 26 features McElroy's patented Centerline Guidance System and a semi-automatic locking cam system that maintains force during the cooling cycle. Contractors and pipeliners that already own McElroy's PolyPorter® and PolyHorse(TM) can continue to use those tools with the new PitBull 26 for enhanced productivity. For more information or to find a distributor, visit www.mcelroy.com.

About Pipe Fusion:

Pipe fusion is a widely accepted process that joins two pieces of thermoplastic pipe together with heat and pressure. Commonly associated with high-density polyethylene pipe (HDPE), the butt fusion process starts by "facing" or shaving the pipe ends simultaneously so that they can be joined together with heat to create a continuous, sealed pipeline. The welding of the pipes is accomplished by using a hot plate in contact with the pipe ends, which heats the plastic to a molten state. Then, after its removal, the ends are pressed together under a controlled force to form a weld that is as strong as or stronger than the pipe itself. Third-party industry research indi-cates that HDPE pipe and joints can have a lifespan of more than 100 years.

For more information, contact

McElroy PR and Marketing Department

Tyler Henning, public relations specialist

Phone: (918) 831-9286

E-mail: thenning@mcelroy.com

More from HVAC