Electrical / Electronic Probes
Fused Probes feature IP2X protection.
Press Release Summary: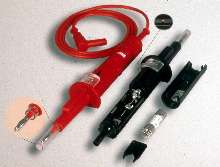 Series CT3220 features plastic body containing Type CC ceramic fuse with 2, 6, 10, 15, or 20 A rating. Tips, which have 4 mm banana plug contact springs, are covered by clear plastic insulated sheath, which locks in closed position. Neon indicator light glows when probing live circuit and fuse is open or missing. Fuse will cutoff short-circuit current in less than ¼ cycle and can withstand fault currents up to 200,000 A.
---
Original Press Release:

New High Capacity Fused Probes with IP2X Protection are Ideal for Industrial & Power Applications


YORBA LINDA, Calif., July 25, 2004...Cal Test Electronics, a premier supplier of over 3,000 standard and custom electronic test accessories, today introduced the CT3220 Series, a new family of High Capacity Fused Probes designed for the industrial and electrical test markets. These devices are built around a rugged plastic probe body containing a high capacity Type CC ceramic fuse to provide optimum user, component, and instrument protection. The fuses are available in 5 amperage ratings - 2A, 6A, 10A, 15A, and 20A. Priced as low as $31.00, the CT3220 Series of High Capacity Fused Probes are the ideal high quality, cost-effective probes for use in a wide variety of electronic power and industrial test applications.

The CT3220 Series High Capacity Fused Probes outstanding features include:
o IEC61010-031 600V CATIII P2 rating
o IP2X user protection
o "Open" fuse indicator light
o Up to 200,000A rupture current protection
o Secure design prevents accidental opening or tampering
o Available in 2 standard configurations

The CT3220 Series High Capacity Fused Probes feature IP2X
protection. All potentially hazardous live parts are covered for user protection. The tips, which have 4mm banana plug contact springs, are covered by a clear plastic insulated sheath which locks in the closed position. It can only be released by pressing a lever behind the finger safety guard.
The probe tip is over 1" long and can reach into tight areas.

The probe bodies are made of high impact plastic and are sized to be easily handled and operated even while wearing insulating gloves. When placing two probe bodies back to back, a unique body design locks them together and spaces their tip at 0.75" (19mm), the standard spacing of banana jack test points.

Most importantly, the probes feature a built in neon indicator light. that will glow when probing a live circuit and the fuse is open or missing. This is a very important safety feature as it tells the user the circuit is live even though their instrument can be displaying zero.

The Class CC fuse provides optimum protection with a current limiting capability and an extremely high "interrupting rating." It will cutoff the short-circuit current in less than one-quarter cycle and can withstand "fault" currents up to 200,000A without rupturing. For added safety, a special tool is
required to open the fuse holder housing. This eliminates the possibility of accidental opening or tampering.

Along with the fuse amperage selections, the probe is also available either as standard body with a 4mm Sheathed Jack or as a body with lead wire. The lead wire can be either PVC or Silicone jacketed with a 1mm² conductor, 1m long. The lead wire is terminated with a Right Angle 4mm Sheathed Banana Plug. Standards colors are Black or Red. Other lengths and terminating connectors are available on special order.

Prices begin as low as $31.00 and all CT3220 Series high capacity Fused Probes come with an opening tool and Cal Test Electronics' one-year warranty. They are available for immediate delivery.

With over 20 years of experience in the design, development and
manufacturing of high-performance, high-quality electronic test accessories for the OEM market, Cal Test Electronics has developed a reputation for flexibility and wide selection of over 3,000 standard and custom products. Cal Test Electronics products are available worldwide. Cal Test welcomes all
inquiries regarding custom design and development, and will gladly provide quotes for OEM quantities.

For additional information, contact Bill Hansen at Cal Test
Electronics, 22820 Savi Ranch Parkway, Yorba Linda, California, 92887-4610, Toll Free: 1-888-256-2246, Tel: (714) 221-9330, Fax: (714) 921-9849 or visit our Web site at www.caltestelectronics.com

More from Controls & Controllers