Fused Capacitor protects against short circuits.
Press Release Summary: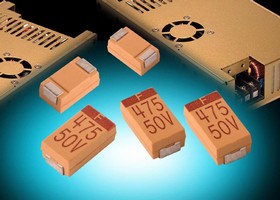 Using thin film technology, TBW Series Tantalum Fused Capacitor incorporates internal fuse to protect against short circuit failure modes. Capacitance values range from 4.7-47 µF with capacitance tolerance of ±10 to ±20%. Available on standard 7 and 13 in. reels, capacitor series has temperature range of -55 to +125°C and is suited for military and aerospace circuitry applications.
---
Original Press Release:

Tantalum Fused Capacitor Offers Increased Protection From Short Circuit Failure Modes



Internal Fuse Provides Increased Protection from Short Circuits

MYRTLE BEACH S.C. (May 17, 2006) AVX Corporation, a leading manufacturer of advanced passive components and connectors, has developed the TBW Series Tantalum Fused Capacitor to provide increased protection against short circuit failure modes. Using a thin film technology, the TBW Fused Capacitor has an internal fuse to protect against short circuits, as well as lower ESR limits than many of its competitors. Applications for the capacitor include any Military or Aerospace circuitry where derating is at marginal levels and reliability relating to voltage breakdown is a concern.

"In response to customer concerns regarding equipment damage resulting from system shorts, we developed the TBW Series Tantalum Fused Capacitor, which offers unparalleled protection against this potentially costly problem", said Bob Fairey, General Manager - Biddeford. "By adding an internal fuse to the TBW Series, we have a developed a capacitor that actually protects against system failure with voltage ratings up to 50VDC.'

Advanced volumetric efficiency of the TBW Fused Capacitor material enables the chip to achieve high capacitance values in standard case sizes. Capacitance values range from 4.7µF to 47µF with a capacitance tolerance of ±10% to ±20%. This tantalum capacitor series has a temperature range -55°C to +125°C. The TBW Series Tantalum Fused Capacitors are available on standard 7" and 13" reels.

Pricing for the TBW Tantalum Fused Capacitor starts $6.00 each for Weibull graded product per MIL PRF 55365 in quantities of 1000 pieces. Delivery is from stock to 10 weeks.

For more information about AVX's TBW Series Tantalum Fused Capacitors, contact AVX Sales and Marketing at 801 17th Avenue South, Myrtle Beach, S.C. 29578; by calling 843-448-9411; by fax at 843-444-2864; or on the Web at www.avx.com.

AVX Corporation is a leading international supplier of electronic passive components and connectors with 20 manufacturing and customer support facilities in 12 countries around the world. AVX offers a broad range of devices including capacitors, resistors, filters, timing and circuit protection devices and connectors. The company is publicly traded on the New York Stock Exchange (NYSE:AVX).

For more information, contact:
Craig Hunter
Strategic Marketing Manager
843-946-0601
hunterc@avxus.com

More from Adhesives & Sealants