Fuse Panel meets NEC® selective coordination standards.
Press Release Summary: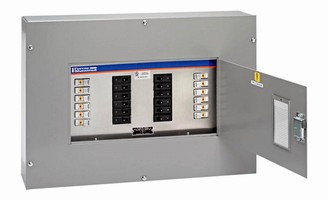 Fused Selective Coordination Panel is UL67-listed panelboard that uses class CC Ultrasafe(TM) fuse holders with blown fuse indicators (fuses provided separately to suit specific loads during installation). Compact size and removable backpan facilitate installation. Capable of accomodating 12-42 circuits, panel features 100, 200, or 300 A copper main bus, and bonded ground bar and neutral bar with set-screw terminations.
---
Original Press Release:

Ferraz Shawmut Fused Selective Coordination Panels Ensure Protection of Critical Components



NEWBURYPORT, Mass. (Aug. 14, 2008) - Ferraz Shawmut, a global leader in the field of circuit protection, announces its Fused Selective Coordination Panels. Recent National Electrical Code® (NEC) changes, implemented in the 2005 code cycle and refined in the 2008 edition, require selective coordination in a number of critical circuits.

The NEC requires selective coordination for Emergency (700.27), Legally Required Standby (701.18), Essential Electrical Systems (517.26) and Critical Operations Power Systems (708.54).

Selective coordination forces the protective device nearest to a fault to trip before any upstream protective device, ensuring that critical loads connected in parallel to the fault are not interrupted. This can be accomplished with circuit breakers or fuses, but fused solutions provide the easiest ways to implement selective coordination and maintain selective coordination during the life of the installation.

Using circuit breakers for selective coordination is more expensive to install. Circuit breakers are also susceptible to modification, risking the loss of selective coordination.

Fused solutions are more cost effective and provide selective coordination with 2:1 ratios, using Ferraz Shawmut Amp-Trap 2000 fuses. The use of fuses in the panel also provides a higher short circuit current rating (SCCR), compared to that of a typical circuit breaker panel, which the market demands.

"As more states adopt the 2008 NEC, consulting-specifying engineers will need to provide selective coordination as part of electrical system designs in new constructions or retrofits of hospitals, office buildings, commercial buildings, critical power applications and similar installations," said Russ Bernstein, product manager of systems and accessories at Ferraz Shawmut. "Using our Amp-Trap 2000 class CC fuses ensures minimal fuse let-thru energies and makes it easy to provide system coordination."

Each Ferraz Shawmut Fused Selective Coordination Panel is a UL67-listed panelboard that uses the market-leading class CC Ultrasafe(TM) fuse holders with easy-to-see blown fuse indicators (fuses provided separately to suit specific loads during installation). The compact size and removable backpan allow for easier installation by contractors.

Features include a bonded ground bar and a neutral bar with set-screw terminations. MLO (main lugs only) terminations include an optional molded case switch. Branch circuit breakers provide circuit isolation, and the panel comes with a 100A, 200A or 300A copper main bus. The panels accommodate 12 to 42 circuits.

For further details and complete product specifications, please send a request to info@ferrazshawmut.com, or visit us.ferrazshawmut.com.

Ferraz Shawmut has been a leader in circuit protection for industry and the electrical market for more than 100 years. With a complete line of current-limiting fuses and accessories, Ferraz Shawmut prides itself on delivering innovative, problem-solving products like the Thermally Protected Metal Oxide Varistor (TPMOV), the SmartSpot® open-fuse indicator, Amp-Trap 2000® fuses, ULTRASAFE(TM) fuse holders, Protistor® semiconductor fuses and Select-A-Fuse® software. Two of the company's latest innovations are its new line of Amp-Trap® High-Speed Class J (HSJ) fuses, engineered specifically for the protection of today's sensitive electronic motor controllers, and the industry's first line of Finger-Safe Power Distribution Blocks (FSPDBs), delivering the ultimate in safety and ease-of-use when making power connections in electrical panels. Ferraz Shawmut, Inc. is a subsidiary of the Carbone Lorraine Groupe. For more information, contact the company by phone at (978) 462-6662 or visit us.ferrazshawmut.com.


More from Material Handling & Storage