Furniture Repair Kit eliminates wood fillers and staining.
Press Release Summary: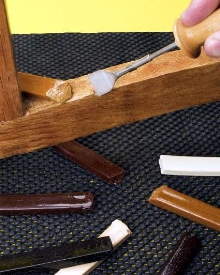 Hot Tool FR-Kit includes LK-1 Lacquer Burn-In Knife with spatula-shaped tip that heats up, melts, and smoothes lacquer sticks into cracks and gouges on wood furniture. Measuring 6 in. long, knife has tapered wooden handle that stays cool and 11/16 in. wide tip that heats up to 300°F in under 2 minutes. Tips also come in 3/16 and 7/16 in. sizes. Lacquer sticks are offered in walnut, cherry, mahogany, light and dark oak, white, and black to match various wood finishes.
---
Original Press Release:

Furniture Repair Kit Eliminates Wood Fillers and Staining


A new furniture repair kit that features a lacquer burn-in knife and a choice of colored lacquer sticks, offered individually, to match different shades of wood and smoothly fill in cracks and gouges is available from by Hot Tools of Marblehead, Massachusetts.

The Hot Tool FR-Kit features an LK-1 Lacquer Burn-In Knife with a spatula shaped tip that heats up, melts and smooths lacquer sticks into cracks and gouges on wood furniture. Eliminating wood fillers, sanding and staining in most repairs, lacquer sticks are offered in walnut, cherry, mahogany, light- and dark oak, white and black to match all types of wood finishes.

Suitable for furniture, woodwork, picture frames, and cabinetry, the Hot Tool LK-1 Lacquer Burn-In Knife is easy to control. Measuring only 6" long and weighing less than 1 oz., about the size of an artist's brush, it has a tapered wooden handle that stays cool and the 11/16" wide tip heats up to 300°F in under two minutes. Tips also come in 3/16" and 7/16" wide sizes.

The Hot Tool FR-Kit's LK-1 is priced at $38.95 (retail). Lacquer sticks are $13.95 each and can be specified at time of purchase.

For more information contact:
Hot Tools division of M.M. Newman Corporation
Charles F. Loutrel, Sales Manager
24 Tioga Way / P.O. Box 615
Marblehead, MA 01945
(781) 639-1000 FAX (781) 631-8887
e-mail: kcaulfield@mmnewman.com (tech. contact)
www.mmnewman.com

More from Packaging Products & Equipment