Furnace offers two stages of heating.
Press Release Summary: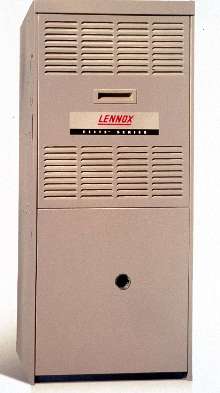 Elite Series Model G60 gas furnace operates like 2 separate furnaces, maintaining more consistent comfort levels. First stage consists of furnace running at about 68% of its heating capacity. When temperatures drop, furnace adjusts itself and enters second stage to meet demand for more heat. Unit features Duralok® heat exchanger, which is made of ArmorTuf(TM) aluminized steel. Steel cabinet has textured paint finish.
---
Original Press Release:
New Lennox Furnace Is Like Two Furnaces in One
(Dallas, TX, September 20, 2002) -- Lennox Industries has introduced the G60, a mid-efficiency gas furnace that features two stages of heating for customized comfort. This furnace is part of Lennox' Elite Series, a product line that offers legendary quality and reliability. The furnace's two-stage heating can be a tremendous help when you're looking for that just-right temperature during the cold winter months. "The G6 can reduce temperature swings in the home. Unlike traditional furnaces, which operate at full heating capacity, two-stage furnaces are designed to operate like two separate furnaces and maintain more consistent comfort levels throughout a home," said Steve Attri, Lennox Industries product marketing manager. With traditional furnaces, the temperature inside a home experiences large temperature swings. The two-stage G60 can typically control temperatures to within as little as one degree of the thermostat setting. The first stage consists of the furnace running at about 68 percent of its heating capacity. A two-stage furnace will always start in the first stage and attempt to meet the heating demand. This reduced capacity is enough to warm a home on mild winter days. When temperatures drop, the furnace adjusts itself and enters the second stage to meet the demand for heat within the home. With two-stage heating, you won't need to keep adjusting the thermostat. Since the furnace's first stage of heating is adequate to meet household heating demands about 80 percent of the time, the G60 is also quieter than conventional single-stage furnaces. "The furnace provides warmth without being noticed," said Attri. It provides peace of mind and peace and quiet." The G60 is recognized for its quality, having earned the reputable Good Housekeeping Seal. The seal, a two-year limited warranty, is earned only after a product clears the review and evaluation process of the famous Good Housekeeping Institute. If a product bearing the seal proves to be defective within two years of purchase, Good Housekeeping will replace the product or refund the purchase price. Good Housekeeping is not responsible for installation. The G60 is also reliable. Its SureLight® control board controls furnace operation to ensure reliable and efficient operation. The Duralok® heat exchanger is made of high quality, patented ArmorTuf(TM) aluminized steel. And its durable steel cabinet has an attractive, high-quality textured paint finish. This furnace has a 20-year limited warranty on the heat exchanger and a 5-year limited warranty on all remaining covered components. A worldwide leader in home comfort, Lennox Industries markets its cooling and heating products through a network of more than 7,000 dealers, including independently owned and operated dealers.
Related