Fume Extraction System offers range of operating modes.
Press Release Summary: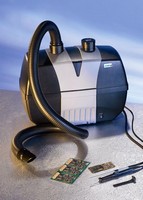 Featuring brushless motor technology that eliminates wearout of motor parts, Model BVX-200 Fume Extraction System delivers high torque and power for improved extraction performance and elimination of dust produced by brush friction. Features include low electrical noise and RF interference and elimination of sparking between brushes and commutator rings.
---
Original Press Release:

BVX-200 Fume Extraction System Uses Brushless Motor Technology for Longer Operating Lifetime and Improved Extraction Performance



OK International has enhanced its BVX-200 Fume Extraction System with brushless motor technology, which eliminates wear out of motor parts and significantly increases system lifetime in normal operation. The system also delivers enhanced reliability, improved extraction performance and a wider range of operating modes allowing optimal equipment management.

Brushless motor characteristics closely match the ideal for fume extraction applications, delivering benefits such as high torque and power for improved extraction performance and the elimination of dust produced by brush friction, explained Graham Ross, Product Manager, Americas at OK International. Recent advances in the design of motor controllers now allow our customers to take advantage of brushless operation, including long life and no cost increase.

Other major advantages of brushless motor operation in manufacturing environments include enhanced reliability, zero dust generation and increased motor efficiency, due to the elimination of brush friction. Electrical noise and RF interference are also reduced, and sparking between brushes and commutator rings is eliminated. Also, since brush ratings limit the maximum power and torque of a conventional brushed DC motor, brushless operation allows higher torque and power in motors of comparable size.

The BVX-200 with brushless motor technology is now available in all systems and will not affect part numbers. OK International is also offering a field-upgrade package for BVX-200 units currently in service, to convert from the standard brushed motor to brushless specification.

In July 2007, BVX-200 Systems will also include two new features. First, an audible filter condition indicator will inform users when it is time to change a filter. Second, a remote on/off switch will be included with the BVX-200, for systems that will be located in hard to reach areas of the workbench. These will be rolling product changes and will not affect the price or part numbers.

About OK International

OK International is a leading global supplier of products for production assembly equipment. The product range includes bench top soldering and desoldering tools, array package rework equipment, fluid dispensing systems and accessories, and fume extraction systems.

OK International is committed to understanding the product needs of its customers and supplies professional grade products that are innovative, reliable, price competitive and easy to use. Through a global sales channel, OK International provides expert product support and responsive customer service, with localisation to meet regional market needs.

OK International Contact

Nathalie Morin

OK International

Eagle Close

Chandlers Ford

SO53 4NF

UK

Tel: +44 2380 489 096

Email: nmorin@okinternational.com

www.okinternational.com

More from Cleaning Products & Equipment