Fume Exhaust Fans feature discharge venturi design.
Press Release Summary: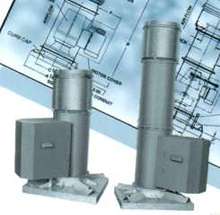 Series FE and FEL curb-mounted centrifugal fans are suitable for continuous operation with exhaust air temperatures up to 150°F (optional 300°F construction is also available). Flow capacities range from 350 to 80,000 cfm with system pressures up to 8 in. wc. Units feature Class I and Class II construction, and non-overloading backward inclined wheel. Standard discharge height is 7 ft. Extended stack for up to 20 ft discharge height is optional.
---
Original Press Release:
New Fume Exhaust Fan Brochure Offered by Penn Ventilation

Dayton, OH - Penn Ventilation has issued a new four page brochure that describes the benefits and features of its new line of fume exhaust, curb mounted centrifugal fans (FE and FEL). This literature also provides complete information on Penn Ventilation's seventeen available models with various combinations of Penn's exclusive discharge venture.

The new fume exhaust fans are designed to meet the various requirements for fume exhaust systems in labs, hospitals, research centers, etc. The fume exhaust fan's exclusive discharge venturi design allows the selection of the discharge velocity to meet the code requirements for high velocity discharge to the atmosphere. Fume exhaust fans are suitable for continuous operation with exhaust air temperatures up to 150 degrees F.

Construction features of the fume exhaust fans include Class I and II Construction. Flow capacities range from 350 to 80,000 CFM with system pressures up to 8" W.C. Penn Ventilation's high efficient, non-overloading backward inclined wheel provides desirable performance characteristics for exhaust applications. The fume exhaust features a standard 7' discharge height and is available with an optional extended stack for up to 20' discharge height. An optional 300°F exhaust temperature construction is also available.

For a FREE Penn Ventilation Fume Exhaust (FE and FEL) brochure contact:

Penn Ventilation

4509 Springfield Street

Dayton, OH 45431

Telephone 937-476-6500

Fax 937-254-9519

www.lau-ind.com