Fulton Thermal Corporation Offering Refurbished Heaters from Stock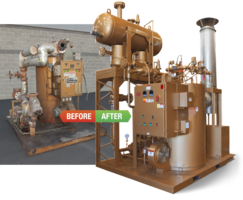 Used Thermal Heaters, Refurbishment Services Now Available
Pulaski, NY - July 7, 2017 - Fulton Thermal Corporation, a global manufacturer of thermal fluid heat transfer products and a provider of innovative energy management solutions, now offers used, refurbished thermal fluid heaters from stock to customers in need of quick-ship order fulfillment.
The used heater stock program allows customers experiencing production losses to restart processes with minimal downtime and at a significantly less investment than when buying new equipment. Fulton's used heaters off the same capabilities as standard, newly-built Fulton Coil Heaters, and are ready for use in virtually any process market. They come with a 90 Day Warranty, and standard Fulton factory and engineering support. In addition to the used heater program, Fulton Thermal Corporation is teaming with Fulton Service Solutions, Inc. to offer refurbishment and retrofit services for existing heater installations.
Heater refurbishment services are available onsite or at the Fulton Thermal Corporation factory in Pulaski, NY, with available services including:
Pump Re-builds
Low Emissions Retrofits
Burner Repair and Replacement
Refractory Repair and Replacement
Controls Retrofits and Upgrades
Valve Replacements
Coil Leak Testing
Re-Painting
Along with its recently re-launched Rental Fleet program, Fulton Thermal Corporation's refurbishment sales and service options continue to grow the company's customer solutions portfolio.
To learn more about Fulton's used heater and refurbishment programs, please visit www.fulton.com/refurb or call 315-298-5121.
Fulton Thermal Corporation
Fulton Thermal Corporation is a member of the Fulton Companies, a global manufacturer of heat transfer systems. Backed by over 40 years of research, innovation and experience, Fulton Thermal Corporation is a premier provider of thermal fluid heaters across many industries. With a tradition of success, the company remains focused on the Fulton mission to improve life through heat transfer solutions. For additional information about Fulton Thermal Corporation, please visit http://www.fulton.com/thermal.
MEDIA CONTACT:
Mark Banick
Fulton Management Services, Inc.
315-298-7182
Fulton Thermal Corporation
972 Centerville Road
Pulaski, NY 13142
Contact This Company Download Spec Sheet
More from HVAC