Fully Integrated DP Flowmeters minimize errors and leaks.
Press Release Summary: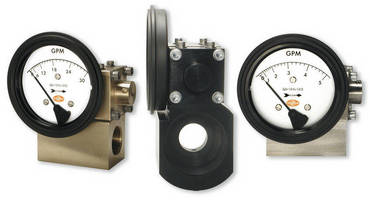 With respective ranges of 0-5 to 0-10 gpm, 0-15 to 0-40 gpm, and 0-50 to 0-200 gpm, models 2510FG/2520FG/2530FG feature 3.5 in. dials, ½-2 in. NPT porting, and long-life, wear-resistant design. Large-throated, non-clogging flow nozzles, manifold-mounted to gauge, have rounded leading face that reduces turbulence and backpressure, which minimizes pressure drop. All models have max line pressure of 275 psi, accuracy of 2% FS, max pressure drop of 5 psid, and turndown of 5:1.
---
Original Press Release:

New Fully Integrated DP Flowmeters Reduce Size and Cost, Minimize Errors and Leaks



MILFORD, CT - New, fully integrated differential pressure (DP) flowmeters from Orange Research are compact and rugged, with directly connected, large-throated, non-clogging flow nozzles. At half the cost, this long life, wear-resistant design is superior to over-sized, over-priced products.

With a unique integrated design, ordering, installation, and maintenance is simplified. Simply select desired flow rate and material and everything is supplied in one compact package. The new product line features large, low-pressure-drop flow nozzles; easy-to-read 3.5-inch dials; versatile ½-inch to 2-inch NPT porting; and a choice of brass, stainless steel, or aluminum bodies suitable for a wide range of applications.

The flow nozzle is a long-life, wear-resistant design with a rounded leading face that reduces turbulence and backpressure, resulting in relatively low pressure drop. It is a low-cost solution that wears better than sharp-edged orifice plates (which often change readings over time due to wear, even with non-abrasive fluids) and competes with the performance of prohibitively expensive venturis. In our design, the flow nozzle is manifold mounted to the gauge minimizing leak paths and overall gauge size. Other designs are much larger and do not fit into tight enclosures.

Three models are available: 2510FG (0-5 to 0-10 GPM), 2520FG (0-15 to 0-40 GPM), and 2530FG 0-50 to 0-200 GPM). All models have a maximum line pressure of 275 psi, accuracy of 2% F.S., maximum pressure drop of 5 psid, and turndown of 5:1.

Orange Research gauges are known worldwide as the rugged "install them and forget them" type of flowmeters. The company offers a large selection of low-cost, rugged and reliable products for measuring differential pressure, flow and liquid level. Built to last, these products are known for long life, affordability, and reliable service under the harshest conditions.

For more information on our new family of DP Flowmeters follow this link to our website (http://www.orangeresearch.com/differential-pressure-flowmeter.htm). The web page includes downloadable PDFs of product specifications, drawings, and instruction sheets.

Orange Research | 140 Cascade Blvd. | Milford CT 06460
Toll-free: 800 989-5657 | Phone: 203 877-5657 | Fax: 203 783-9546
Website: www.orangeresearch.com | E-mail: info@orangeresearch.com
CONTACT: Jim Gill

More from Controls & Controllers