Fully Automatic Pelletizer requires minimal space.
Press Release Summary: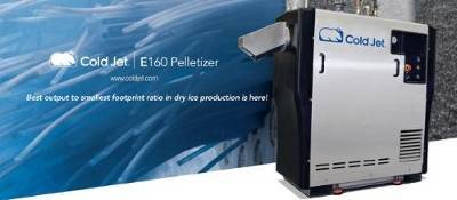 Featuring compact design, E160 Pelletizer is designed to manufacture 3–16 mm dry ice pellets and nuggets on demand, at up to 352 lb/hour. Extruder has closed, stainless steel frame and can be operated from cylinders, dewars, or storage tanks of liquid CO2. Operating as standalone machine or integrated into automated dry ice cleaning or surface preparation system, E160 has multiple industrial voltage ports, enabling global installations.
---
Original Press Release:

Cold Jet Launches E160 Pelletizer



New pelletizer provides best output to smallest footprint ratio in dry ice production



LOVELAND, Ohio,  --Cold Jet®- the world leader in developing innovative, environmentally responsible dry ice cleaning solutions and production equipment - announces the launch of the E160 Pelletizer, a highly efficient dry ice extruder that has minimal space requirements and is designed to manufacture 3mm-16mm dry ice pellets and nuggets on demand. The E160 Pelletizer provides the best output to footprint ratio in dry ice production and has the lowest maintenance cost and lowest energy consumption.



"The E160 Pelletizer is easy to operate, can go to full production in less than three minutes and requires only half of the normal space needed by similar dry ice production equipment on the market today," said Wim Eeckelaers, Senior Vice President, Global Dry Ice Manufacturing, Cold Jet.



In addition to its compact footprint, the fully automatic E160 Pelletizer produces up to 160 kg (352 lbs) per hour of consistent, high density dry ice pellets or nuggets on demand; has the highest liquid to solid conversion rate; is simple to operate - either as a standalone machine or when integrated into an automated dry ice cleaning or surface preparation system; has a closed, stainless steel frame; can be operated from cylinders, dewars or storage tanks of liquid CO(2); and has multiple industrial voltage ports, enabling global installations. Cold Jet once again sets a new industry standard for dry ice production with the E160 Pelletizer.



Cold Jet's dry ice production equipment produces consistent, high density dry ice for transportation and blasting and has been engineered to extrude the highest density dry ice available.  Due to our proprietary knowledge of dry ice, Cold Jet's process creates a longer shelf life, better transportability and offers better blasting performance.  Cold Jet pelletizers are also fully automated with one-button operation and are made to UL, USDA, FDA and CE standards. 



About Cold Jet

With more than 25 years of experience, Cold Jet® is the leading global provider of high capacity, quality on-site dry ice production equipment, serving both industrial gas and end-user companies around the world.  Cold Jet's dry ice production equipment has been engineered to extrude the highest density dry ice available. Cold Jet is also the world leader in developing innovative, environmentally responsible cleaning solutions that help companies reduce maintenance costs, enhance product quality, prolong equipment life and improve both productivity and worker safety. Cold Jet dry ice cleaning systems are used in a variety of industries and applications, making productive use of recycled carbon dioxide while eliminating the need for chemicals and water in the cleaning process. Cold Jet is a private company with global headquarters in Loveland, Ohio and international operations in Europe, Asia, Canada and Mexico. For more information, visit www.coldjet.com or call 1-800-337-9423 or +1 513-831-3211 (International).



Contact: Jessica Gittinger

Marketing Manager

+1 513-716-6329

jgittinger@coldjet.com

More from Electronic Components & Devices