Fully Automatic Circular Saw combines high speed and precision.
Press Release Summary: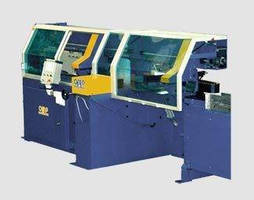 Used in production sawing applications that require straight cuts on bars, tubes, and structural work pieces, OMP K3 hydraulically driven upcut saw is controlled via servo feed system and cuts up to 7 in. dia. ZONE CUT Technology adjusts feed rate during cut, allowing cutting speeds from 20–200 rpm; gear box equipped with hydraulic brake removes all backlash from system; and operation is managed with Siemens touchscreen HMI/PLC. Tubes/bar feed rates reach 31 ½ ips.
---
Original Press Release:

OMP K3 High Speed Precision Cutting for Bars, Tubes and Work Pieces



Pat Mooney Saws is proud to offer OMP K3, a fully automatic circular saw designed for production sawing applications requiring straight cuts on bars, tubes and structural work pieces. This heavily constructed upcut saw is capable of cutting up to 7 inches in diameter.



OMP K3 is hydraulically driven and controlled via a servo feed system. This allows precise control of the feed rate which is important when cutting large sections of material and/or using carbide tipped saw blades. The gear box is equipped with a hydraulic brake to ensure all backlash is removed from the system. This allows for longer blade life and for using carbide saw blades, as well as HSS.



OMP K3 boasts ZONE CUT Technology which allows you to cut faster while extending saw blade life with speeds of 20-200 RPM. This technology adjusts the feed rate during the cut since there are critical zones that can reduce blade life which are entry and exit points of the tube. This happens when cutting wider, thicker sections of material.  In addition, there is an express zone where the feed rate can be increased without wearing the saw blade because you are cutting through thinner sections of material. In the express zones, ZONE CUT automatically increases the feed rate and in the critical zones, it automatically decreases the feed rate resulting in faster cut times and extended saw blade life.



The saw is equipped with 3 clamps: the gripper vise which indexes the material into the saw, the unloading/outfeed clamps which move the piece after the cut is complete and the fixed vise which clamps on both sides of the saw blade.



OMP K3 utilizes a high speed gripper vise to feed the tubes/bars into the saw with speeds of up to 31-1/2 inches per second. The shuttle vise is controlled by ball screw and servo motor with accelerating and decelerating NC controlled ramps.



The OMP K3 uses NC controls and the machine's operation is managed with the Siemens touchscreen HMI/PLC. This machine can store up to 10,000 programs and has the capability to make 6 different cut lengths out of 1 tube/bar to help reduce scrap.

More from Communication Systems & Equipment