Full-Featured Spray Foam Rig has towable form factor.
Press Release Summary: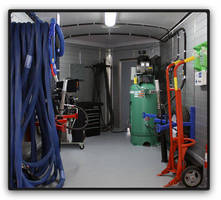 Measuring 12 ft long with 4 ft V-nose, XTR1s hydraulic spray foam rig features frame construction that allows towing behind trucks starting from F150 and up in size. Complete solution includes PMC GH-25 hydraulic foam machine, 5 hp 15 cfm vertical air compressor, 160 ft of PMC heated hose, 220 V full shore power, and support for 2 sets of material, all contained in 12 ft, 7,000 lb GVWR V-nose shell.
---
Original Press Release:

The XTR1s a New, Affordable, and Functional Spray Foam Rig Design



Expanding what is to be expected from the spray foam industry is something we here at Paratus are growing quite accustomed to. Today, as we unveil a fifth option of spray foam rig to our line of rigs, we will continue to be the leader of the spray foam equipment industry. Our newest foam rig, the XTR1s, is a 12' + 4' V-nose hydraulic spray foam rig with a 220 volt full shore power configuration.

The XTR1s is part of our diverse line-up of spray foam rigs and brings to contractors a new sense of freedom and functionality. The XTR1s is a complete solution that features a PMC GH-25 hydraulic foam machine, 5-hp 15 cfm vertical air compressor, 160' of PMC heated hose, 220v shore power, and support for two sets of material all contained in a 12', 7000 lb. GVWR V-nose shell.

Experience a new found level of flexibility with the XTR1s when towing, maneuvering job sites, and storing your rig. As a result of smart engineering and a tightly built frame, the XTR1s can be towed behind trucks starting with a F150 and up in size. The XTR1s, from Paratus, is a perfect solution for those getting into the business due to its pricing under $40,000. This spray foam rig also suits up ideally for those already in the business and looking to expand with a compact and diverse rig to support additional work without a large financial investment.

Remaining nimble, functional, and educated are essential in the state of the current economy. Being able to enter into, or expand, a business for under $40,000 keeps your business nimble. Any purchase of the XTR1s, or any other spray foam rig from Paratus, comes with a full day of in-house training on the equipment, the foam, and more which keeps you well educated. The top-level design and build of our rigs is second to none in the industry which ensures your business will be at the highest levels of functionality. Also, when you shop with Paratus for your spray foam rigs and spray foam equipment we have support for any financial needs, support for technical questions, marketing and advertising, and nearly anything else you need during the sales process.

If you'd like to learn more about the XTR1s give Paratus a call at 330.454.0500 or you can e-mail us at info@paratusfoam.com.

More from Fluid & Gas Flow Equipment