Fulham Launches "FreeLite" Exit Signage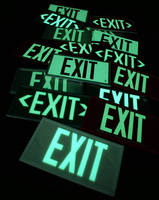 (HAWTHORNE, CA) - The new Fulham FreeLite(TM) line of photoluminenscent exit signs requires no electrical power for operation other than the normal ambient light in your building. FreeLite technology absorbs light during the day, then the self-illuminating, non-radioactive materials in the signs shine bright when the lights go off. In addition to no power required for operation, they also eliminate costly testing/maintenance (just need to be dusted off occasionally), are extremely easy to install and are not apt to fail in loss of power situations (as powered signs can often do). More information about FreeLite is available at: http://www.youtube.com/watch?v=_PAQcFcSKtM

For more information, please contact radams@fulham.com or call (323) 599-5000.

More from Architectural & Civil Engineering Products