Fujitsu Conducts Memory Expansion Technology Field Trial, Achieves System Performance Equivalent to 10 Servers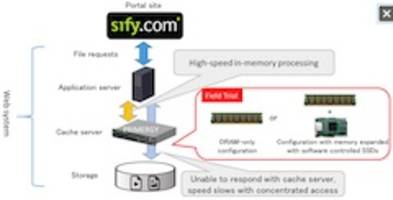 Field trial conducted at India-based Sify's Data Center
KAWASAKI, Japan, Sept 19, 2018 - (JCN Newswire) - Fujitsu Laboratories Ltd. and Fujitsu Limited today announced that they had conducted a field trial of a memory expansion technology in India-based Sify Technologies Limited's datacenter. Results showed that by applying this technology to a server, they succeeded in achieving system performance equivalent to that of 10 servers. As a result, when compared to overall systems that include technical servers, the system performance could be improved up to 3.6 times. With this technology, Fujitsu has verified that it can further improve the processing of in-memory systems that provide high speed responsive performance by processing data in the server's memory, and will move forward to applying this technology to products.

Background

In recent years, the volume of data handled by companies has grown dramatically, increasing the demand to process huge volumes of data at high speeds. In-memory systems, which store data in the memory (DRAM) are limited by the physical memory capacity that can be installed on each server. Therefore, performance can be stifled when processing large volumes of data, as not all of the data can be loaded into the memory. In light of this issue, Fujitsu Laboratories and Fujitsu in November 2015 developed a memory expansion technology of software controlled SSDs that can use the flash memory to virtually expand memory capacity. The field trial to validate this technology was conducted at a datacenter owned by Sify, which has had a strategic partnership with Fujitsu since 2015.

Details of the Field Trial

1. Trial Period

August 2017 - June 2018

2. Details

Fujitsu conducted the field trial on a cache server upon which was placed high demand for in-memory processing, as part of a web server system supporting www.sify.com, the retail public-facing portal site of Sify. A particular emphasis was on response, so that content distribution could take place smoothly. In the trial, memory expansion technology was applied to one of 10 cache servers (consisting of Fujitsu Server PRIMERGY x86 servers) that handle 3 TB of data. This field trial used actual data and accessed patterns used on www.sify.com to compare only the performance of the web server system and of the cache servers when the cache server's memory consisted of DRAM (256 GB), and when software controlled SSD flash memory (2.5 TB) was expanded with software controlled SSDs as an in-memory system.
3. Effects
Fujitsu and Fujitsu Laboratories confirmed that by applying the technology of software controlled SSDs, without physically increasing the DRAM installed in the cache server by using the flash memory as a virtual memory, memory capacity can be increased by a factor of 10 without degrading performance. This increased the processing capacity of the system, achieving the performance of a 10 web server system with one server.
4. Applied Technologies
I. Software-controlled SSD memory expansion technology of software controlled SSDs (announced November 2015) 
This trial uses a controller which turns the SSD into a black box when equipped as hardware. By applying a controller function with software, it was possible to directly access the flash memory within the SSD, eliciting higher performance from the flash memory. II. A cache system optimized to software controlled SSDs (thesis published in March 2017) 

This trial used a memory control system consisting of two types of memory space: high speed, low capacity memory (DRAM), and low speed, high capacity memory (software-controlled SSDs), which assigned frequently accessed data to high speed memory and less frequently accessed data to low speed memory. The memory control system created a cache system that delivered both high performance and high capacity by separating out frequently accessed data and allocating it to DRAM, while everything else was allocated to the memory space of software controlled SSDs.
Future Plans
Fujitsu Laboratories and Fujitsu expect this technology to speed up the system as a whole, as it enables systems that demand a great deal of in-memory processing, to put all of the data to be processed into high-capacity virtual memory. The companies will continue to verify the accuracy of this technology, moving toward future commercialization.
Endorsement
Jitender D, General Manager Cloud & Engineering Services, Sify: 
Sify portals use clusters of servers for delivering a diverse collection of media files like images and videos in its entertainment section. With the exponential increase in data volume and velocity, more cluster capacity expansion was the primary need. The capacity should also complement the performance for higher throughput. Fujitsu's Memory expansion technology has been evaluated by Sify for caching and retrieving these media files. In the evaluation cycle, it provided 10x capacity and the performance also got scaled to 3x compared to DRAM systems. This will result in overall CapEx saving for future expansion.
About Fujitsu Laboratories
Founded in 1968 as a wholly owned subsidiary of Fujitsu Limited, Fujitsu Laboratories Ltd. is one of the premier research centers in the world. With a global network of laboratories in Japan, China, the United States and Europe, the organization conducts a wide range of basic and applied research in the areas of Next-generation Services, Computer Servers, Networks, Electronic Devices and Advanced Materials. For more information, please see: http://www.fujitsu.com/jp/group/labs/en/. 
About Fujitsu Ltd
Fujitsu is the leading Japanese information and communication technology (ICT) company, offering a full range of technology products, solutions, and services. Approximately 140,000 Fujitsu people support customers in more than 100 countries. We use our experience and the power of ICT to shape the future of society with our customers. Fujitsu Limited (TSE: 6702) reported consolidated revenues of 4.1 trillion yen (US $39 billion) for the fiscal year ended March 31, 2018. For more information, please see http://www.fujitsu.com. 

Contact:
Fujitsu Laboratories Ltd. Computer Systems Laboratory E-mail: mmgic-pr2018@ml.labs.fujitsu.com Fujitsu Limited Public and Investor Relations Tel: +81-3-3215-5259 URL: www.fujitsu.com/global/news/contacts/
More from Packaging Products & Equipment