Fuel Ignition Tester detects cetane levels in diesel fuel.
Press Release Summary: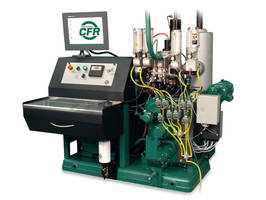 Included in company's CFR (Cooperative Fuel Research) product line, Fuel Ignition Tester determines ignition delay and derived cetane number of diesel fuel. Using constant volume combustion chamber equipped with sensors that collect data during ignition and combustion phase, product simulates conditions of combustion process of actual diesel engine. Electronics and process control software enable automatic operation.
---
Original Press Release:
Waukesha Engine Expands CFR Analyzer Line Adding New, Compact Fuel Ignition Tester
WAUKESHA, WISCONSIN) October 14, 2003 - Waukesha Engine, a business unit of Dresser, Inc. announced today that it is expanding its CFR (Cooperative Fuel Research) product line with the introduction of a Fuel Ignition Tester (FIT) instrument used to quickly determine the ignition delay and derived cetane number of diesel fuel. Using an advanced constant volume combustion chamber (CVCC) equipped with sensors that collect data during the ignition and combustion phase, the FIT is designed and optimized to simulate the conditions of the combustion process of an actual diesel engine. The instrument's electronics and process control software enable automatic operation to determine the cetane number with a high degree of accuracy and repeatability. Waukesha Engine is the only ASTM-listed manufacturer of the CFR engine, used to test and qualify the octane value of gasoline and the cetane value of diesel fuel. The Fuel Ignition Tester product was recently acquired from Fueltech AS, based in Trondheim, Norway. Fueltech developed the technology behind the FIT based on experience and know-how achieved during more than 15 years of research and development in fuel combustion technology for both residual fuels for marine applications as well as distillate fuels. According to Fueltech Managing Director Jan Kjetil Paulsen, "For marketing and product roll-out, I regard Waukesha Engine with its history of more than 70 years in development and sale of fuel-rating equipment, to be the ideal company for high-quality production and world-wide marketing and support of the FIT product." Future FIT production will be moved to the U.S. and marketed through the Waukesha CFR distribution network. The first Waukesha Engine FIT units will be available for sale in November, according to Stan Blakney, Vice President - Product Development. "The FIT test instruments will be a great complement to the existing CFR product line," Blakney says. "For the past 70 years, Waukesha Engine's CFR has been the 'gold standard' method to determine a fuel's octane or cetane rating, used in laboratories around the world. The FIT product is a good choice because it's an economical and fast way to determine a 'derived' cetane number through a combustion process, using the latest technology available. It can be used on a desktop and is very user friendly. "While we expect the current CFR line will continue to be used at the refinery level, we see a growing user base in smaller lab environments such as at state regulatory agencies and the like. It's an answer to customer demand for an economical cetane tester that's compact, easy to use and offers low maintenance." Founded in Waukesha, WI, in 1906, Waukesha Engine, a business unit of Dresser, Inc., is a manufacturer of spark-ignited, gaseous-fueled engines widely used in field gas compression, power generation, and other mechanical drive applications. Waukesha Engine also packages Enginator® gen-sets and DC switchgear controls for the distributed generation market. Waukesha Engine's manufacturing and power systems facilities - based in Waukesha, Wisconsin, USA and Appingedam, The Netherlands - are ISO 9001 certified. The company's website can be accessed at waukeshaengine.dresser.com Dresser, Inc., headquartered in Dallas, Texas, is a worldwide leader in the design, manufacture and marketing of highly engineered equipment and services sold primarily to customers in the flow control, measurement and power systems segments of the energy industry. Dresser has a widely distributed global sales presence in 100 countries worldwide with over 7,500 employees. The company's web site can be accessed at www.dresser.com. NOTE: For additional information, please contact Jeff Balis, Manager - CFR Operations, Waukesha Engine, 1000 W. St. Paul Ave., Waukesha WI 53188-4999, (262) 549-2916. Visit Waukesha Engine on the Internet at waukeshaengine.dresser.com. © Copyright 2003, Waukesha Engine, Dresser Inc. All rights reserved.
More from Fluid & Gas Flow Equipment