FTIR Process Analyzer is certified for use in hazardous areas.
Press Release Summary: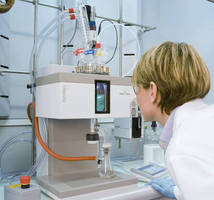 Certified for safe use in Class I, Division 1 hazardous manufacturing environments, ReactIR(TM) 247 HL-UL employs Fourier Transform Infrared (FTIR) analysis to characterize array of process chemistry reactions. Specific compliances include UL 1203, Fourth Edition, Explosion-Proof and Dust-Ignition-Proof Electrical Equipment for Use in Hazardous (Classified) Locations; C22.2 No. 30-M1986, Explosion-Proof Enclosures for Use in Class I Hazardous Locations; and UL 61010-1/CSA C22.2 No. 61010-1.
---
Original Press Release:

ReactIR(TM) 247 Certified for Class 1, Division 1 Hazardous Use



Columbia, MD. - METTLER TOLEDO announced today that the ReactIR(TM) 247 has been certified for safe use in Class I, Division 1 hazardous manufacturing environments and is ready for shipment. Effective immediately, a broader range of manufacturers can take advantage of ReactIR 247's next-generation Fourier Transform Infrared (FTIR) analysis to characterize a nearly limitless array of process chemistry reactions. In turn, ReactIR 247 will help these manufacturers streamline production, reduce testing & manufacturing costs, and shorten time-to-market in today's highly competitive global economy.

The specific configuration that has received safe-use approval is the ReactIR(TM) 247 HL-UL. The equipment will display the MET Mark label indicating compliance, noted Norm Van Order, Product Line Manager, METTLER TOLEDO. "METTLER TOLEDO subjects every ReactIR system to a rigorous and final inspection test prior to delivery to virtually guarantee the highest level of operator safety in sensitive manufacturing situations, such as those encountered in the fine chemical and pharmaceutical industries," he said.

Evaluation and testing of the ReactIR(TM) 247 HL-UL required compliance with UL 1203, Fourth Edition, Explosion-Proof and Dust-Ignition-Proof Electrical Equipment for Use in Hazardous (Classified) Locations; C22.2 No. 30-M1986, Explosion-Proof Enclosures for Use in Class I Hazardous Locations; and UL 61010-1/CSA C22.2 No. 61010-1, Second Edition, Electrical Equipment For Measurement, Control, and Laboratory Use; Part 1: General Requirement. Meeting these standards helps ensure quality managers worldwide that they can obtain the faster results they desire using ReactIR technology without compromising safety, said Dr. Van Order.

ReactIR 247's Class 1, Division 1 rating makes it appropriate for use primarily in North America. This configuration of ReactIR(TM) 247 is not yet compatible with Zone 1 ATEX-compliant areas, though evaluation and safety testing has been completed and all reports have been submitted to the appropriate Notified Body for review and approval for ATEX Zone 1 safe use.

METTLER TOLEDO anticipates ReactIR(TM) 247 ATEX Zone 1-compatible configurations will be available mid-August after the Notified Body's final assessment and any required design refinements. "We look forward to providing certified ReactIR 247 equipment to our customers worldwide," Dr. Van Order concluded.

For more information on the benefits of METTLER TOLEDO ReactIR 247 technology, please visit www.mt.com/reactir247

About METTLER TOLEDO
METTLER TOLEDO provides the enabling technology, software and people that can help build a seamless workflow to translate bench scale chemistry into a commercial process. For more than 20 years, our enabling tools and services have been a strategic resource providing critical information for thousands of development scientists and engineers. Companies have used that knowledge to accelerate the discovery, development and scale-up of new chemical processes spanning the chemical and biopharmaceutical industries. For more, visit www.mt.com


More from Mechanical Components and Assemblies