FSR Takes The Guess Work out of Designing Collaboration Systems with a New Line of Pre-packaged Kits and Will Launch a Wireless Switcher for Smart Workspaces at InfoComm 2019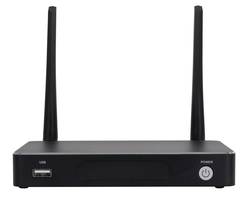 Woodland Park, NJ  May 3, 2019 -- FSR, a leading manufacturer of a wide variety of infrastructure solution products for the audio/video, Information and Communications Technologies (ICT), education, corporate, hospitality, and government markets, is bringing solutions to InfoComm 2019 that enable people to work more efficiently with improved communications. The Company will be showing a line of new Collaboration Kits in Booth # 3942 that take the guesswork out of projects for integrators and tech managers, a new wireless scaling switcher that converts boardrooms and classrooms into smart workspaces, and a new switcher for the Company's T6 and RT6 table boxes.
"It's all about doing more in less time with better results," said Jan Sandri, FSR President. "Our new line of HuddleVU collaboration kits streamline the design process so there's more time for creativity and teamwork, and our new switcher provides wireless connectivity with maximum security."
HuddleVU Collaboration Kits
FSR takes the work out of designing collaboration systems. With four different pre-packaged systems, integrators can choose the appropriate configuration for their customers' needs with kits accommodating from 2 to 4 users. Each kit comes complete with all the necessary hardware, including a Harmony table box available in a choice of finishes, a switcher and all required cables finished with color coded end rings to designate proper cable to switching connections. With CEC and auto sense, simplicity is the key with the HuddleVU Kits. As each user connects, the system will automatically switch to the correct input or use the simple push buttons. Each package can be upgraded with optional retractors. Available kits are: Dual Digital Kit, Dual Legacy Kit, Quad Universal Kit and Dual Digital Air Kit.
Air Switcher
FSR's new 2x1 Scaling Air Switcher provides the perfect solution for smart workspaces such as boardrooms, classrooms, or any environment that benefits from content sharing. The Air Switcher provides simple connections via either a wireless or wired connection. The wireless connection is standard 802.11n and supports Mircast and AirPlay.The Air Switcher also supports dual network capability allowing users to connect via a corporate or guest network providing the network security demanded in today's workplaces. The Air Switcher features a built-in scaler that supports 1080P and also provides the ability to remotely monitor the active Wi-Fi signals broadcasting real time. With its auto switch capability, the Air Switcher allows the active HDMI signal to switch to wireless input avoiding an additional control system or manual intervention. The unit also features low-latency mouse control for additional source selection and annotation. A Win10 extended desktop for the presentation mode allows the presenter to view information on his/her own screen, and compliance with USB HID touch technology to work with White Boards and annotation.

DV-HSSW-41A Scaling HDMI Switcher Kit
Another first from FSR. New at InfoComm is the DV-HSSW-41A, a 4x1 Scaling HDMI switcher designed to fit in FSR's line of T6 and RT6 table boxes. The unit features an auto sense auto-switch, front push buttons and lamps, four HDMI inputs, an additional  audio input, one output, and support for HDMI2.0. Hardware is supplied to mount the switcher in the table box or under a table.

About FSR
FSR, established in 1981, manufactures a wide variety of signal management and infrastructure solutions for the AV/IT, Information and Communication Technologies (ICT), corporate, education, hospitality, government, and religious markets, including floor, wall, table, and ceiling connectivity boxes and wireways, as well as a full line of interfaces, distribution amplifiers, matrix switchers, seamless scaling switchers and HDBaseT signal delivery solutions. FSR offers live 24/7 technical and sales support throughout the country from expertly trained technicians and sales representatives. The Company is also an HDBaseT Alliance Adopter Member.  For more information: www.fsrinc.com.
FSR Contact:
Jan Sandri
973-785-4347
Press Contact:
Desert Moon Communications
Harriet Diener
845-512-8283
More from Transportation Industry Products