Froude Hofmann Design, Manufacture and Deliver a Unique Test Rig for Mobile Drilling Platforms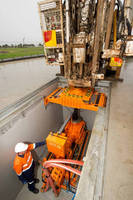 Thanks to the expertise, innovation and collaboration between its North American and Australian companies, Froude Hofmann and its wholly owned subsidiary Go Power Systems, known throughout the world for its engine testing systems have developed a unique drilling test rig for Boart Longyear, an organization providing mineral exploration services and drilling products for the global mining industry. This new test system is designed to test motors prior to final assembly as well as complete mobile drilling rigs including self propelled, stationary and truck mounted and is currently operational from Boart Longyear's Adelaide facility.

Two Brakes form the basis of the torque measuring system, which are linked via a right angle drive 1:1 ratio gearbox and innovative alignment device to the drill rod of the drilling rig. The whole system is installed in a pit to allow the drilling platform truck to be positioned directly over the test rig, and the drilling rod connected vertically via a coupling & cardan drive shaft. The rig was conceptualised by Froude Hofmann's Australian office, designed and built at the Go Power facilities in Detroit, before being shipped to Australia, where a team from USA and Australia completed the installation and commissioning.

"This project demonstrates the depth of engineering skill and knowledge within our organization." explains John Harris, Froude Hofmann's Chairman and Operational Director. "Not only were we able to understand the complex technical and safety requirements of the project but we delivered on time and on budget. Also pivotal to the success of the project was the collaboration between our North American and Australian companies. All manufacturing was carried out at our Detroit factory, so we could guarantee optimum quality of work and ensure we met all deadlines"

Acquisition of this system allows customer rigs to be carefully load tested in the refurbishment process. Given the remote locations in which rigs operate, the ability to load test at the shop greatly reduces the risk of unwanted downtime when the rigs return to service. With the new Froude Hofmann dynamometer system, sub-assemblies can be full load tested prior to final assembly which improves the build process. Load testing and data acquisition can be carried out on the complete rig, collecting information such as bearing temperature, oil pressures and load charts, which the test system can provide in an automated and repeatable manner.

Boart Longyear Vice President of Global Engineering commented, "In addition, the system is used in the New Product Development process to thoroughly test prototype rigs before sending them to field test - allowing a more comprehensive evaluation of the prototype in the controlled engineering environment. This capability is part of our accelerated New Product Development process - accelerating time to market for our next generation drilling systems".

As pioneers in the drilling industry, Boart Longyear, once again, lead the field and provide their customers with an even better service for optimising and guaranteeing the performance of their rigs.

USA Enquiries: Go Power Systems/Froude Hofmann Inc.

45225, Polaris Court, Plymouth, Michigan, USA 48170. Tel: 734-416-8000

Fax: 734-416-9113

Email: info@gopowersystems.com

http://www.gopowersystems.com

Australasia Enquiries: Peter Skalak. General Manager. Froude Hofmann Australia.

5 Kelletts Road, Rowville VIC 3178, Australia.

Tel: +61 (0)3 9213 8600

Fax: (0)430 118253

Email: PSkalak@froudehofmann.com

International Enquiries: Simon Drain. Froude Hofmann. Blackpole Rd, Worcester, WR3 8YB. UK.

Tel: +44 (0) 1905 856800

Fax: +44 (0)1905 856 811

E-mail: SDrain@froudehofmann.com

http://www.froudehofmann.com

Froude Hofmann designs, manufactures and supplies an extensive range of engine testing systems in the automotive, aerospace, marine and industrial markets. Highly experienced teams of mechanical, electrical and software applications engineers produce customized solutions to ensure all customers' engine test requirements are met. Froude Hofmann has manufacturing sites in the UK, Germany and North America, supported by sales and service centres in Australia, Brazil, China, France, India, South Korea, Spain and Czech Republic.

Go Power Systems was acquired by the long established engine dynamometer manufacturer, Froude Hofmann in 2002. Dynamometers, data acquisition systems, test cell equipment and dyno/engine stands are supplied worldwide to engine manufacturers & developers, engine tuners, remanufacturers, rebuilders, overhaul facilities and garage workshops. Go Power Systems is one of the leading manufacturers of engine test equipment for the diesel and automotive industries and produces a wide range of dynamometers at cost effective prices giving proven customer satisfaction.

Boart Longyear is the world's largest leading global mineral exploration company. For 120yearsthey have provided mineral exploration services and drilling products for the global mining industry and also has a substantial drilling presence for water exploration, environmental sampling, energy, and oil sands exploration

Headquartered in Salt Lake City, Utah, with 2010 sales of US$1.476 billion and over 10,500 employees worldwide, the Company conducts contract drilling services in 40 countries, and provides mining products to customers in over 100 countries. Regional offices and operations are located in Adelaide - Australia, Geneva - Switzerland, Mississauga - Canada, and Santiago - Chile.


More from Agricultural & Farming Products