Front Suspension and Axle System is lightweight.
Press Release Summary: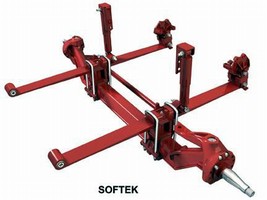 SOFTEK® front steer suspension and axle system combines Monoleaf steel single-leaf spring which eliminates inter-leaf friction and box-shaped STEERTEK axle that resists horizontal, vertical, and twisting forces. Allowing fleets to trim up to 92 lb at 12,000 lb capacity, system is also available in 12,350 lb capacity. Integrated steering arm and tie rod attachments help increase strength, while 2-piece knuckle assembly simplifies king pin bushing serviceability.
---
Original Press Release:

Hendrickson Gears up Production of the New Lighter Weight SOFTEK® Integrated Steer Axle and Suspension



WOODRIDGE, Ill. - Hendrickson Truck System Group launched production of the new lighter weight SOFTEK® front steer suspension and axle system.

The new SOFTEK system combines Hendrickson's Monoleaf steel spring and the rigid, box-shaped STEERTEK axle for outstanding ride and stability with a substantial weight savings.

SOFTEK delivers one of the lightest front suspension and axle combination on the market to help fleets and owner operators counter the increased weight of new engine technology. At a capacity of 12,000 pounds, fleets can trim up to 92 pounds compared to traditional two-leaf suspensions. SOFTEK also comes in a 12,350-pound capacity system.

The innovative monoleaf spring technology reduces weight and eliminates inter-leaf friction. The industry's leading supplier of heavy-duty springs, Hendrickson drew on decades of engineering expertise in developing this single-leaf spring.

The industry's only front fabricated beam provides an extremely durable and lightweight front axle. With its box-shaped design, STEERTEK resists horizontal, vertical and twisting forces more effectively than traditional I-beam axles enabling tires to maintain better contact with the road to help improve handling and steer tire life.

The SOFTEK system incorporates features to help reduce maintenance costs. Integrated steering arm and tie rod attachments increase strength, while the two-piece knuckle assembly simplifies king pin bushing serviceability.

"Hendrickson is putting more emphasis on technology that can increase payload capacity for truck owners without compromising performance. SOFTEK has been engineered to reduce vehicle tare weight while delivering exceptional ride and handling," says Sean Coleman, director of marketing and program management.

For additional information about SOFTEK, contact Hendrickson Truck Systems Group at 630-910-2800 or www.hendrickson-intl.com.

Hendrickson, a Boler company, is a premier global manufacturer and supplier of truck, tractor, bus and recreational vehicle suspensions; trailer suspensions, controls and nonintegrated axles; truck and trailer lift axles; bumpers and trim components, and truck, tractor and trailer springs to the commercial transportation industry. Hendrickson, based in Itasca, Ill., continues to meet the needs of the transportation industry after more than 90 years. Visit the Hendrickson Web site at www.hendrickson-intl.com.

For more information contact:
Ralph E. Norton
Hendrickson
(330) 489-0473