Front-Load PC Card Adapter is PCI Rev. 2.2 compliant.
Press Release Summary: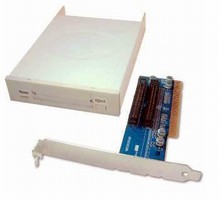 Model PCD-TP110CS PCI to PC CardBus adapter installs in 3.5 or 5.25 in. drive bay and supports one independent card socket compliant with 16/32-bit PC Card standard. Drive unit connects to PCI interface board with included flat ribbon cable. Compatible with Intel 82365SL controller and ExCA, device supports PC Card applications including SRAM, Linear Flash, ATA Flash, modem, and wireless LAN. Other features include 132 MBps data transfer rate and 0-70ºC operating temperature range.
---
Original Press Release:

DigiGear Introduces Low-Profile PCI to Front-Load PC CardBus Adapter(PCD-TP110CS)



Irwindale, CA - Aug 2, 2006 - DigiGear, Inc., a leading manufacturer of innovative products for the industry PC and exploding digital photography marketplace, is launching its most exciting product to date, PCD-TP110CS (TI PCI1510 chipset). This product gives users the ability to install the low-profile PCI to PC CardBus adapter in 3.5" or 5.25" drive to take most of 8/16/32 bit PCMCIA cards!

PCD-TP110CS is a high-performance PCI-to-PC Card Drive Unit that supports one independent card socket compliant with the 16/32-bit PC Card standard defined in 1997 PC Card Standard.

Provides a rich feature set that makes it the best choice for bridging between PCI and PC Card in desktop computers.

Compliant with the 16-bit PC Card specification defines in PCMCIA Release 2.1 and JEIDA 4.2 and can support any combination of 16-bit or 32-bit PC Card in the one socket, powered at 5V or 3.3V as required.

The host system interface of PCD-TP110CS is compliant with the PCI Local Bus specification 2.2.

PCD-TP110CS is register set compatible with Intel 82365SL controller and compatible with ExCA, it enables the PCD-TP110CS to support almost all of the PC Card applications including: SRAM card, Linear Flash card, ATA Flash card, Modem card and Wireless LAN card.

o PCD-TP110CS provides one front-access PCMCIA/CardBus socket solution for PC.
o PCI Local Bus Specification Revision 2.2 compliant.
o PCMCIA 2.1, JEIDA 4.2 compliant. 3.3V, 5.0V, or mixed 3.3V/5.0V operation.
o Intel 82365SL register compatible, ExCA compatible.
o The 3.5" front Drive Unit with built-in one socket is connected to the PCI Interface Board by using the flat ribbon cable.
o There are one PC card socket that can be used for Type I / Type II / Type III PC Card in this unit.
o Support IRQ steering (PCMCIA -16Bit), native driver built in Windows XP.
o Support IRQ steering (PCMCIA -16Bit), optional driver provided in Windows Me or Windows 2000

Socket:
Supports PC Cards (Type I/II/II)
PCMCIA: 8/16 Bit, 8 MHz, 3.3/5V.
CardBus: 32 Bit, 33 MHz, 3.3 V.

Power Information:
Power Voltage @ PCI DC 3.3V/5V/12V
PC Card Socket DC 3.3 V/5V @1A

Physical Character @ PC Card Drive
Length: 147.7 ±0.5mm
Width: 101.6 ±0.5mm
Height: 26.2 ±0.5mm
Weight (w/o cable)360g

Data Transfer Rate (Max)
CardBus Mode: 132 Mbytes/sec

Environment Temperature
Operating: 0ºC to 70ºC
Storage: -55ºC to 125ºC
Relative Humidity
Operating R.H.% 0-70%
Storage R.H. % 0-95%

Interface:
PCI to PCMCIA/CardBus Interface
*cable included

If you need more information about PCD-TP110CS, please call (626) 813-0236 or visit our websites at www.digigearinc.com.

For Further Information please contact:
Roy Lee
DigiGear, Inc.
(626) 813-0236
sales@digigearinc.com
RoyL@digigearinc.com

About DigiGear

DigiGear, Inc., located in Southern California is a developer of innovative products for the exploding digital photography market. In addition to EZ3D Photo Print, DigiGear, Inc. offers a full line of lenticular products for professionals and the commercial market, including 3D Photo Kiosks. DigiGear, Inc. also manufactures a full line of digital photo accessories, including specialty card readers and high speed media adapters. DigiGear, Inc. is privately held company, in business since 2004.

More from Machinery & Machining Tools