Industrial / Specific Purpose Computers
Front-Access Fanless PC features two PCI slots.
Press Release Summary: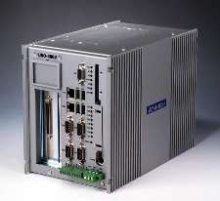 Measuring 140 x 177 x 237 mm, Pentium® III grade UNO-3062 has aluminum chassis that acts as heat sink to dissipate internal heat. It supports dual individual power inputs from 16-36 Vdc and will switch to another power input if one fails. Suited for industrial automation and control, hard disk-free unit offers anti-shock and anti-vibration properties as well as operating temperature up to 50°C. It includes 512 KB battery-backed SRAM for storing critical data.
---
Original Press Release:

UNO-3062 Front-Access Fanless PC with PCI Extensions


Cincinnati, Ohio (January 24, 2005) - Advantech Corporation, Industrial Automation Group announced the release of the UNO-3062, a Pentium® III grade, front-access fanless PC with two PCI slots. The UNO-3062 features a rugged and field-proven design offering dual power inputs and battery backup SRAM.

The UNO-3062 is designed to be more compact and reliable than traditional Industrial PCs. It features an open platform that fulfills the demanding requirements of the industrial field, and is an ideal solution for industrial automation and control.

Making wiring and maintenance significantly simpler, all connections of the UNO-3062 are located on the front panel. Moreover, the UNO-3062 is also very compact (140Wx 177H x 237D mm), which means installation in a control cabinet is easy and compact.

Equipped with enhanced expandability, the UNO-3062 has two PCI slots that can be used for any PCI form-factor card. Advantech has a large selection of PC-based automation products available in PCI form-factor, including cards for data acquisition and I/O control, motion control, GPIB, and industrial communication.

Designed without cooling fans, the UNO-3062's aluminum chassis acts as a heat sink to dissipate internal heat. Hard disk-free, the UNO-3062 boasts excellent anti-shock (50 G) and anti-vibration (2 Grms w/CompactFlash®) properties. The operating temperature can also reach as high as 50 degrees Celsius. With these rugged features, the UNO-3062 is built to operate in harsh environments.

Engineered to be used as the controller of industrial processes, the UNO-3062 has many reliability features. The UNO-3062's 512 KB of battery backed SRAM ensures that you have a safe place to store critical data.

The UNO-3062 supports dual individual power inputs (16~36 VDC), and will switch to another power input if one fails, thus reducing the opportunity of a system crash due to power failure.

With all these features, the UNO-3062 is a good choice for system integrators that need an tough Industrial Computer in a small form-factor.

This product is available for purchase directly from the manufacturer at eAutomationPro.com and from Advantech's network of North American distributors. For more information or to locate an Advantech distributor, visit eAutomationPro.com.

Advantech Corporation, Industrial Automation Group - Founded in 1983, the Industrial Automation Group of Advantech Corporation is the only complete PC-based Industrial Automation Solution Manufacturer offering products such as Industrial PCs, Workstations, Panel PCs, Flat Panel Monitors, Heavy Environmental PCs, Customized PCs, Single Board Computers, Data Acquisition & Control Devices and Web-enabled products for a wide array of industries. Drawing on the talents of more than 1,800 people, Advantech operates an extensive sales and marketing network in 16 countries and 35 major cities to deliver fast time-to-market services to our worldwide customers. Today Advantech offers over 700 products and solutions, adding 30 new products each year. US operations for the Industrial Automation Group are based in Cincinnati, OH (877-294-8989). Address: 1320 Kemper Meadow Drive, Suite 500, Cincinnati, Ohio 45240.

Web: eAutomationPro.com. Email: info@eAutomationPro.com

Brandon Rhoten
Advantech Corporation, Industrial Automation Group
phone: (513) 742-8895 x333
fax: (513) 742-0554
web: eAutomationPro.com

More from Controls & Controllers