From Modernizing Operations to Critical Relocations, Ipsen Delivers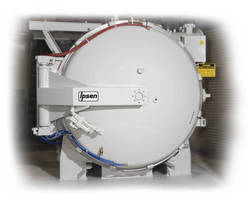 CHERRY VALLEY, IL – Ipsen recently shipped a horizontal TurboTreater® thermal processing vacuum system to an international company's plant in Mexico, where it will function as a substitute for another Ipsen furnace, substantially modernizing their operations. This company is part of the Metal-Casting industry, and they will use this TurboTreater to process stainless steel parts for a French car manufacturer and, eventually, a German car manufacturer as well. In both cases, the cars are assembled in Mexico and exported all over the world.

The company has a long history with Ipsen, having purchased multiple Ipsen furnaces over the last few decades. In 2013, they contracted Ipsen for a critical relocation of a large heat-treating furnace from one of their plants in Mexico to the same plant where this new TurboTreater will be installed – all to best support their customers in the Automotive industry. Overall, the order and shipment went smoothly – the various milestones were met either ahead of schedule or on time, and the Factory Acceptance Test was seamless.

This specific TurboTreater features a 24" x 24" x 36" (610 mm x 610 mm x 914 mm) all-graphite hot zone with a 2,000-pound (907 kg) load capacity. It utilizes gas cooling to 2-bar absolute pressure and operates at temperatures of 1,000 °F to 2,400 °F (538 °C to 1,316 °C). The furnace is also equipped with a 20-inch Varian diffusion pump and Ipsen's CompuVac® control system.

The Ipsen TurboTreater line operates as a "build-your-own" furnace, allowing customers to order heat treatment furnace systems specified to their unique needs. Possible modifications include variations on features such as the hot zone insulation package, heating elements, pumping systems and control system. In addition, this multi-purpose vacuum furnace leads the industry through the use of patented mechanical features, such as Ipsen's unique quarter-twist graphite heating element support hanger, which provides metallic support for ceramics; the flare locking rim for molybdenum cooling gas nozzles, which secures them in place into a rounded extrusion in the plenum wall; and the cooling system design, which generates the highest heat transfer coefficient of any vacuum furnace on the market. To learn more about the unique features of the Ipsen TurboTreater, visit www.IpsenUSA.com/products.

About Ipsen
Ipsen designs and manufactures industrial vacuum furnaces, atmosphere furnaces and supervisory control systems for a wide variety of thermal processing markets, including: Aerospace, Commercial Heat Treating, Medical, Energy and Automotive. With production locations in Europe, America and Asia, along with representation in 34 countries, Ipsen is committed to providing support for customers worldwide. Choosing Ipsen means choosing a partner in success.
More from Thermal & Heating Equipment