Friend or Foe? Micro-Mode 5 for NATO Small Drones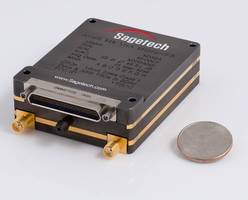 WHITE SALMON, Wash., Nov. 27, 2018 /PRNewswire/ -- Sagetech Corporation, a maker of certified UAV avionics, this month demonstrated NATO Mode 5 encrypted interrogations/replies with a device weighing less than 6 ounces. The MX12B is an aviation transponder that enables small unmanned aircraft to interoperate in NATO military airspace, at minimal weight-cost. The event was hosted at a government facility near Patuxent River Naval Air Station by the "IMPAX" section of the Navy's unmanned aircraft program office (PEO U&W), which is tasked with rapid acquisition of miniature Mode 5 technology for small U.S. military drones.
Congressional mandate requires U.S. armed services to upgrade their aircraft with NATO Mode 5 technology, but small unmanned aircraft struggle to carry heavy legacy transponders that weigh as much as 10 lbs. The Navy has long sought a lightweight Mode 5 transponder for use in its small drones, some that weigh only 40 lbs at takeoff. Sagetech's MX12B transponder weighs 5.3 ounces, provides full specification performance, and includes the latest FAA-certified civil modes for compliant flight in both military and civil airspace.
Mode 5 is an air-combat identification system which positively distinguishes friendly from enemy aircraft, reducing fratricide. The technology employs spread-spectrum radio transmissions that are difficult for adversaries to intercept or jam and encrypts data with keys that change every few seconds.
The demonstration was attended by several unmanned military aircraft program offices: Fire Scout, Blackjack, ScanEagle, Shadow, Aerosonde, and Stingray. "All were highly impressed to see such a small package deliver full specification Mode 5 performance," said Kelvin Scribner, Sagetech's CEO, "and the MX12B's FAA certifications mean military UAS can operate compliantly in civil airspace as well."
Sagetech is accepting orders for the non-certified MX12B that begins shipping February 14, 2019, and for the military-certified version that ships beginning December 24, 2019. A non-certified civil MXS transponder with no export restrictions is available now. The FAA-certified MXS model begins shipping on June 21, 2019. For more information, email Josh Tuttle at [email protected] or visit www.Sagetech.com/Mode5Demo.
About Sagetech Corporation
Sagetech Corporation provides miniature FAA/DoD certified mil-spec avionics to UAV manufacturers. Sagetech's aviation transponders have logged over 1 million combat flight hours. The MX family of certified transponders are available in models for military use, and non-export-controlled models for civil use. Sagetech is exhibiting at AUVSI's Xponential 2019 (Chicago, IL) in Booth #2202 from 29 April – 2 May 2019.