Friction Hinge offers precise positioning and smooth operation.
Press Release Summary: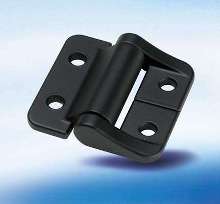 Friction Hinge eliminates need for secondary mechanical support such as door stay or gas spring. It provides constant torque throughout 270° range of motion, allowing user to position doors and panels for hands-free access into entire interior of cabinet or enclosure. Two sizes are available, each with four constant-torque options for different application needs.
---
Original Press Release:
Southco's Next-Generation Constant-Torque Friction Hinge Offers Precise Positioning, Smooth Operation and Long-Life Durability
CONCORDVILLE, Pa., April 04, 2003-Southco has introduced an exciting addition to its portfolio of Engineered Access Hardware: a new constant-torque friction hinge. Developed in partnership with Reell Precision Manufacturing, this hinge combines precise door-positioning capabilities with smooth hinge operation in a single, compact component. The single component eliminates the need for a secondary mechanical support such as a door stay, a gas spring or even an operator's shoulder. Featuring Reell's patented ReellTorq(TM) technology, this uniquely engineered friction hinge provides constant torque throughout its 270-degree range of motion. This allows the user to perfectly position doors and panels for convenient, hands-free access into the entire interior of a cabinet or enclosure. "This hinge provides new features and superior benefits for our customers, and it perfectly complements Southco's existing hinge portfolio," says Gerry Gomez, product manager for Southco. "The constant-torque friction mechanism provides a smooth operation that will enhance the experiences of our customers' customers." "The constant-torque friction hinge also will help customers realize immediate cost savings, since it offers superior, consistent performance with long-life torque stability. Each hinge has been tested through 20,000 cycles and will require zero maintenance or friction adjustments over its lifetime," says Gomez. The hinge is available in two sizes to meet different strength and space requirements. Each size offers four constant-torque options for different application needs. Custom torques also are available by contacting Southco. Each hinge is available in two standard finish options: black powder coat and natural (brushed zinc). Other colors are available as custom modifications. The new hinge is designed for numerous applications in a multitude of industries, ranging from aerospace to food equipment, industrial machinery and medical equipment, to networking, telecommunications and computer equipment. The hinge is also ideal for applications in the rail, semiconductor manufacturing, marine, RV/caravan, HVAC, vending, lighting and other industries, as well as on ATMs and similar equipment. "This new hinge is just the start of collaborative efforts between Southco and Reell Precision Manufacturing, combining Reell's experience in torque-control mechanisms with Southco's customer-connectivity focus, operational excellence and hinge expertise," says Gomez. "This partnership will enable Southco to incorporate the unique ReellTorq(TM) technology across our range of access hardware solutions, providing our customers with superior products, engineered to meet their needs." "We are very excited about the alliance between our two companies," said Rob Jackson, Reell Precision Manufacturing Corporation's vice president and co-general manager. "Reell's constant-torque technology is one of the best-kept secrets in the design engineering community. We're pleased that our new collaboration in engineering, sales, marketing and distribution with Southco offers us a great opportunity to attract new customers and better serve existing customers, as well as provide Southco's customers with reliable, constant-torque hinge solutions. Together, our goal is to create innovative new products that will make constant-torque solutions available to designers who had not considered a friction hinge solution before now." Reell Precision Manufacturing Corp. designs and manufactures reliable torque solutions for demanding applications. Reell's line of clutches, friction hinges and slip clutch devices provide high torque in small packages that perform consistently over their lifetimes. Reell's expertise in torque design allows the company to help customers take their products in new directions. Reell's engineers and sales personnel work side-by-side with customers to find the right solutions for specific applications. Reell offers custom product development for high-volume OEM applications as well as a standard catalog of products. For more information, visit Reell Precision Manufacturing Corporation's website at www.reell.com. Complete product literature, technical data sheets and downloadable CAD drawings for the new constant-torque friction hinge are available on Southco's website, www.southco.com. Southco's online Product Configurator is a fast, convenient way to configure the hinge that best suits each application. Use the online request form to order samples to test in your prototype. Southco is a leading global provider of engineered access solutions, including latches, captive fasteners, hinges, handles, and other accessories for applications in the marine, networking, telecommunications, computer, automotive, mass transit, off-highway/construction, RV/caravan, industrial machinery and HVAC industries. Southco is strongly focused on customized engineering solutions and global support for its key customers. The company aspires to be a virtual engineering center for its customers' engineered-access solutions and is committed to providing outstanding quality and overall satisfaction. Southco's promise to its customers is to connect, create and innovate to provide the best solution for every access engineering problem.
More from Computer Hardware & Peripherals