Friction and Peel Tester measures variety of materials.
Press Release Summary: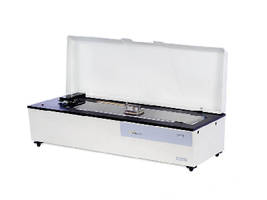 With i-COFTEK 3500, users can determine static and kinetic coefficient of friction of plastic films, sheets, foils, paper, paper board, PP woven bags, and metal-material belts for communication cable, conveyor belts, and textiles. Tester can also measure peel strength of adhesive laminated products, medical adhesive bandages, release paper, and protective films.
---
Original Press Release:

Tester is Used for Medical Adhesive Friction and Peel Test



i-COFTEK 3500 Friction & Peel Tester is designed to determine static and kinetic coefficient of friction tests of plastic films, sheets, foils, paper, paper board, PP woven bags, fabric style, and metal-material belts for communication cable, conveyor belts and textiles, as well as peel strength test of adhesive laminated products, medical adhesive bandages, release paper and protective films, etc.



A: Prepare test specimens according to specific standards. Based on ISO 8295-1986, 2 specimens measuring 200 mm×80 mm are required for each test. In accordance with ASTM D1894, the size of the test specimen that is to be attached to the plane should be 250 mm×130 mm and the specimen that is to be attached to the sled should be a 120 mm square (if the material of specimen is rigid, it should be a 63.5 mm square). The specimen surface should be flat and should be free of dust, finger prints or any foreign matters which may change the surface characteristics.



B: Mount the test specimen. The connection of load cell and sled should conform to specific standards



C: Set up test parameters, specimen parameters and then start the test.



D: Record the test data and view the test curve. If the test curve is not satisfactory, the test should be abandoned and new test with another specimen should be started.



Labthink International, Inc.

200 River's Edge Drive, Medford, Massachusetts, 02155, U.S.A.

Phone: +1-617-830-2190

FAX: +1-781-219-3638

Email: info@labthinkinternational.com



Labthink Instruments Co., Ltd.

144 Wuyingshan Road, Jinan, P.R.China

Phone: +86-531-85068566

FAX: +86-531-85812140

Email: trade.en@labthink.cn



More from Architectural & Civil Engineering Products