Freudenberg Offers its Compact Omegat Seal Combined with PT2 Wiper
Press Release Summary: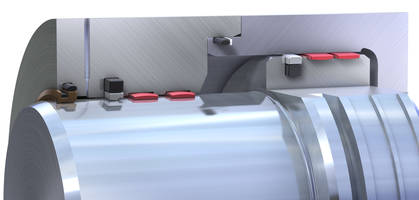 Sealing system in a steel mill often must withstand nonstop, 24/7 operation of the facility's equipment
HAGC cylinder has a stroke of less than 2mm during operation at a frequency of up to 15 cycles per second
PU 21430 material offers abrasion and extrusion resistance
---
Original Press Release:
Freudenberg Offers Sealing Solution Expertise for HAGC Cylinders
Company highlights new solutions, materials at 2019 AISTech
Plymouth, Mich. (USA), May 6, 2019. In the steel industry, the hydraulic automatic gauge control (HAGC) cylinders used in mills pose a big challenge to sealing systems, which need to handle high extrusion resistance and maintain low friction at the same time. Freudenberg Sealing Technologies will exhibit its range of seal systems and materials for HAGC applications and more at the 2019 AISTech Conference and Exposition – the steel industry's premier technology event – at the David L. Lawrence Convention Center in Pittsburgh, May 6 to 9.
"A sealing system in a steel mill often must withstand nonstop, 24/7 operation of the facility's equipment, a task that only becomes more intense on a HAGC cylinder, which has a stroke of less than 2mm during operation at a frequency of up to 15 cycles per second," said Robin Moeller, Global Business Development Manager Heavy Industry, Freudenberg. "We have addressed challenges such as these with dedicated research to identify the right materials to help our customers meet performance requirements in countless production environments."
For maximum machine loads, Freudenberg offers its compact Omegat seal, which comes combined with a PT2 wiper. Both are made of polytetrafluoroethylene (PTFE). The PTFE system is ideal for maximum performance in a 24/7 operation and stands up to temperature increases and loss of lubrication, providing optimal safety and protection against failures.
For applications where operation is intermittent and the system has opportunities for cool-down, Freudenberg offers polyurethane (PU) sealing solutions, including components featuring its new PU 21430 material, which offers impressive abrasion and extrusion resistance, is easy to install and is an ideal solution for medium machine loads.
"With more than 170 years of sealing expertise, Freudenberg prides itself on providing the best solution for every specific requirement that manufacturers might encounter," said Moeller.
To learn more about Freudenberg's solutions for the steel industry, visit booth #818 at AISTech, or visit https://www.fst.com/
About Freudenberg Sealing Technologies
Freudenberg Sealing Technologies is a longstanding technology expert and market leader for sophisticated and novel applications in sealing technology and electric mobility solutions worldwide. With its unique materials and technology expertise, the company is a proven supplier for demanding products and applications, as well as a development and service partner to customers in the automotive industries and in general industries. In 2018, Freudenberg Sealing Technologies generated sales of about €2.3 billion and employed approximately 15,000 people. Freudenberg-NOK Sealing Technologies runs the business operations of Freudenberg Sealing Technologies (FST) in the Americas. More information at www.fst.com
The company is part to the global Freudenberg Group which has four business areas: Seals and Vibration Control Technology, Nonwovens and Filtration, Household Products as well as Specialties and Others. In 2018, the Group generated sales of approximately €9.4 billion and employed more than 49,000 associates in around 60 countries. More information is available at www.freudenberg.com.
Media Contact
Freudenberg-NOK Sealing Technologies
Cheryl Eberwein, Director, Media Relations
office: +1 734 354 7373
email: cheryl.eberwein@fnst.com
Freudenberg Sealing Technologies
Ulrike Reich, Head of Media Relations
Office: +49 (0)6201 80 5713
Email: ulrike.reich@fst.com
www.twitter.com/Freudenberg_FST
www.youtube.com/freudenbergsealing
https://www.fst.de/api/rss/GetPmRssFeed
More from Mechanical Power Transmission