Freudenberg-NOK Sealing Technologies at WindEnergy Hamburg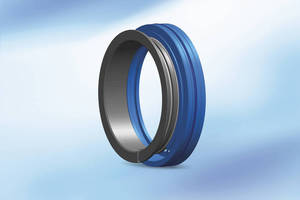 Show will highlight new sealing solutions for the wind power industry



PLYMOUTH, Mich. – Manufacturers and operators place high demands on sealing systems in wind power facilities. The key requirements include minimal friction, optimized wear behavior and reliable operation at low temperatures. The systems are used to seal blade and main bearings, as hydraulic seals in pitch cylinders and as oil seals in main gears. Specialists from Freudenberg-NOK Sealing Technologies will be showcasing new sealing solutions to address these demands at the 2014 WindEnergy show (Hall 5, Stand 414) from Sept. 23 to Sept. 26, 2014, in Hamburg, Germany.



The durability of sealing rings in hydraulic assemblies and components is a crucial parameter for the lifespan of the entire wind power system. Standard systems in hydraulic piston accumulators mostly work with two seals (back to back), one for oil and another for gas. If there is no pressure discharge, the smallest leak leads to a buildup of pressure between the seals and the destruction of the sealing system.



By contrast, the SIMKO 300 from Freudenberg-NOK is a single seal, consisting of a polyurethane seal ring and an elastomer pressure ring. The polyurethane material is less susceptible to damage and more robust than PTFE during installation.  Its high dimensional stability and extraordinary wear resistance are decisive for reliable sealing and a long service life. This makes the SIMKO 300 especially attractive for use as a piston seal in the piston accumulators of wind turbine systems.



Freudenberg-NOK has also developed sealing profiles to seal blade bearings, gearing them for functional reliability and a long service life. They employ the premium material Ventoguard, which stands out for its suitability for particularly low temperatures.  It resists ozone, saltwater and greases. Ventoguard's outstanding relaxation behavior guarantees reliable sealing even after many hours of operation, even when there is considerable movement in the bearing gap. The Ventoguard family includes various elastomers that have been improved to meet a wide variety of requirements.



Freudenberg-NOK has developed a two-part seal in view of the surface treatment for the blade bearing (sand blasting and painting). The exterior roof profile protects the underlying profile seal, especially in the seal lips' sensitive contact area. The profile seal with an integrated roof profile is compatible with installation spaces.



The company will display another innovative seal at the Hamburg show as well. The company's Radiamatic RCD labyrinth seal, an advanced -design that seals against oil in main gears, generators and similar systems, is setting new standards for design. The Radiamatic RCD conveys its three main working principles with the three initials in its name: splashing transmission oil is "rejected," residual oil in chambers is "collected," and then "drained" into the oil sump. Furthermore, it functions wear-free and is highly resistant thermally and chemically, permitting a service life of 20 years or more. Radiamatic RCD labyrinth seals can be manufactured with turning technologies, for small production runs and prototypes, among other uses. This means they can be adapted to customers' needs and  delivered quickly.. A protective cover and an assembly aid are also available up to a shaft diameter of 200 mm.



Finally, Freudenberg-NOK's new polyurethane material shows the potential that can be found in the development of sealing materials. It exhibits a significantly longer service life than the material in the standard PU seal, is more resistant to water, and has been conceived for a wider range of uses. Its viscoelastic behavior in particular has been optimized to maintain the flexibility of its soft segments despite applications in a broad temperature range. The seals function reliably up to 120 °C and are still flexible enough for use in wind power facilities, even at low temperatures. In comparison tests with standard polyurethanes, the new material displays no appreciable evidence of wear, even as conventional seals fail prematurely. At 120 MPa, its tear resistance is about 30 percent higher than that of comparable polyurethanes.



Media Contacts:

Cheryl Eberwein, Director, Media Relations

Office: +1 734-354-7373

Cell: +1 248-767-1068

E-Mail: cheryl.eberwein@fnst.com



Kevin Soisson, Communications Specialist

Office: +1 734-354-5328

E-Mail: kevin.soisson@fnst.com



About Freudenberg-NOK Sealing Technologies

Freudenberg-NOK Sealing Technologies is the Americas joint venture between Freudenberg and Co. in Germany and NOK Corp. in Japan. Freudenberg-NOK is a leading producer of advanced sealing technologies for a variety of markets including: aerospace; agriculture; appliance; automotive; construction; diesel engine; energy; food and beverage; heavy industry; and pharmaceutical. Founded in 1989 under the legal name Freudenberg-NOK General Partnership, Freudenberg-NOK is headquartered in Plymouth, Mich. and operates more than 20 facilities across the Americas. For additional information, please visit www.fnst.com.





More from Material Handling & Storage