Freudenberg-NOK Invests in Fluid Power Segment Capabilities with Expansion of Schwalmstadt, Germany Facility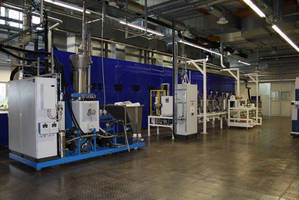 European plant provides materials to Troy, Ohio production site



PLYMOUTH, Mich. – Freudenberg-NOK Sealing Technologies (Freudenberg-NOK) is continuing to build its global fluid power leadership through significant investments at its Schwalmstadt, Germany material production site.



The Schwalmstadt facility produces the company's new polyurethane and other materials that are used at Freudenberg-NOK plants, including the Troy, Ohio location.



Over the past year, Freudenberg-NOK has invested more than U.S. $6.5 million in Schwalmstadt, including U.S. $5.2 million for a new raw material production facility to manufacture polyurethane.



Schwalmstadt's production space – approximately 4,700 square feet – is dedicated to the development, production and marketing of a variety of elastomer and polyurethane materials, and to the production of hydraulic and pneumatic seals used in fluid power applications. The plant also ships the polyurethane material to the Troy facility for fluid power component production. Both Schwalmstadt and Troy produce components using compression, transfer and injection molding processes.



Material development is a core competency within Freudenberg-NOK and earlier this year the company introduced a new polyurethane material that addresses crucial fluid power challenges, such as more aggressive environments, higher temperatures and longer equipment operating periods. The material is more resistant to water and synthetic hydraulic fluids, and withstands major temperature fluctuations better than existing polyurethanes, notes Dr. Jürgen Hieber, head of  Material Development in Schwalmstadt.



Seals made from the new polyurethane offer manufacturers the ability to meet diverse working conditions without maintaining an inventory of different components, such as hydraulic cylinders that address unique environmental demands. With a standard operating range of -35°C to +120°C, the material stays flexible at low temperatures and stable at high temperatures. In fact, Freudenberg-NOK engineers targeted prolonged thermal resistance in developing the new polyurethane. Through polymer engineering, this new material has been developed by making use of an advanced molecular architecture that favors viscoelastic material behavior.



Media Contacts:

Cheryl Eberwein

Director, Media Relations

Office: +1 734-354-7373

Cell: +1 248-767-1068

E-Mail: cheryl.eberwein@fnst.com



About Freudenberg-NOK Sealing Technologies



Freudenberg-NOK Sealing Technologies is the Americas joint venture between Freudenberg and Co. in Germany and NOK Corp. in Japan. Freudenberg-NOK is a leading producer – through its Automotive, Merkel, Process Seals and Simrit sales channels – of advanced sealing technologies for a variety of markets including: aerospace;  agriculture;  appliance; automotive; construction; diesel engine; energy; food and beverage; heavy industry; and pharmaceutical. Founded in 1989 under the legal name Freudenberg-NOK General Partnership, Freudenberg-NOK is headquartered in Plymouth, Mich. and operates more than 20 facilities across the Americas. For additional information, please visit www.fnst.com.

More from Agricultural & Farming Products