Hydraulic / Pneumatic / Radial Shaft Seals
Freudenberg-NOK Announces First Major Order for Frictionless Automotive Engine Seals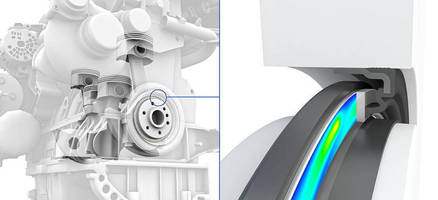 Plymouth, Mich. – Freudenberg-NOK Sealing Technologies (Freudenberg-NOK) has won its first major order for its new generation of automotive seals. The frictionless Levitex seals, a subject of the company's research for years, will go into an engine for a global platform in 2017. The new seals function with a cushion of air, reducing both fuel consumption and CO2 emissions.



Levitex seals initially will be produced in Europe although the company plans to expand product into North America in the future as customer demand grows.



In any internal combustion engine, seals make sure that oil stays where it belongs: in the engine. As a result, the intersection between the engine and transmission is an important sealing point. There the crankshaft ends with a shaft seal at the crankcase. As essential as the seal is, it produces a substantial amount of friction with every engine rotation, converting valuable torque into heat energy losses.



With Levitex, Freudenberg-NOK has developed a new generation of mechanical seal that produces almost no friction at all. The resulting CO2 reductions – as high as 1 gram per kilometer driven – are significant.



At its core, a Levitex seal consists of two rings, one of which is firmly attached to the crankshaft and the other to the crankcase. One of the rings has grooves that are just a few micrometers deep. When the crankshaft rotates, the air is dragged against the sealing dam that encloses the grooves. The grooves taper to a closed tip and thus represent a cul-de-sac for the enclosed air. This produces a cushion of air that separates one sealing surface from the other, making possible a nearly frictionless seal for the shaft. Until now, gas-lubricated mechanical face seals were exclusively used in major industrial facilities. It is only the new design, patented by Freudenberg-NOK, and its associated production process that allow the idea to be carried over to the internal combustion engine, where there is little space available for its installation.         



Engineers at Freudenberg-NOK prepared for the launch of the Levitex technology into series production with exhaustive testing, where the sealing rings had to demonstrate their flawless functioning in extreme temperatures, ranging between -40 and +150°C. Neither extremely fine dust – like the "Arizona dust" that automakers use for their functional tests – nor the penetration of water were able to negatively affect the performances of the seals.



"At present, no other technology is known that allows the frictionless and secure sealing of the crankshaft," said Dr. Eberhard Bock, the head of strategic product development at Freudenberg Sealing Technologies. "In view of the ambitious CO2 goals that become effective in 2020, the focus will be on saving every gram. As a result, we are confident that we will succeed in finding other customers for this innovative technology."



The gas-lubricated crankshaft seals are not the only technology that Freudenberg-NOK is using to help automakers reduce the CO2 emissions of future vehicle generations. The company has also successfully introduced a family of low friction Simmerring seals into the market. The seals are based on the innovative material "ACM 380," a rubber compound that not only reduces friction by up to 20 percent but is also manufactured with an environmentally-friendly vulcanization accelerator. The "Energy Saving Seal" from this product group makes it possible to reduce friction by up to 40 percent. In this seal, the elastomer is reinforced with a plastic sleeve. The company also offers a CASCO™ cassette seal especially for commercial vehicles that reduces crankshaft friction by 60 percent while protecting against dirt with an axially positioned seal lip. In a test under realistic operating conditions, the CASCO seal passed an operating run of 1.6 million kilometers.



Absolutely reliable sealing with the least possible friction – these inherently contradictory goals are increasingly becoming the standard in the auto industry due to innovations from Freudenberg-NOK. With its LESS (Low Emission Sealing Solutions) initiative, which also includes lightweight design innovations, the auto supplier is making a contribution to sustainable mobility.



Media Contacts:



Cheryl Eberwein

Director, Media Relations

Office: +1 734-354-7373

E-Mail: cheryl.eberwein@fnst.com



About Freudenberg-NOK Sealing Technologies

Freudenberg-NOK Sealing Technologies is the Americas joint venture between Freudenberg and Co. in Germany and NOK Corp. in Japan. Freudenberg-NOK is a leading producer of advanced sealing technologies for a variety of markets including: aerospace; agriculture; appliance; automotive; construction; diesel engine; energy; food and beverage; heavy industry; and pharmaceutical. Founded in 1989 under the legal name Freudenberg-NOK General Partnership, Freudenberg-NOK is headquartered in Plymouth, Mich. and operates more than 20 facilities across the Americas. For additional information, please visit www.fnst.com.