Freudenberg Helps the Growing Beverage Industry Keep Its Flavor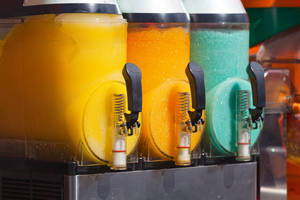 Plymouth, Mich. (USA), April 29, 2019. Enjoying a beer, soda or sparkling water has never come with as many options as it does today. From the ever-growing microbrew and craft beer trend that brings us seasonal and special edition suds, to machines that allow consumers to create their own soda flavor on the spot, expanded options are all the rage.
With companies and breweries producing more variety and flavors, the facilities and machines that make this variety possible are under increased performance pressure. For example, many microbrew facilities have a fixed number of production lines producing multiple flavors of beer because dedicated lines for each variety can be cost prohibitive. The syrups used in flavored waters and energy drinks and beverages blended from solids such as fruits and vegetables can present sterilization and cleaning challenges. Add in the need for proper regional food contact certifications and longer maintenance cycles and companies can find themselves spending months chasing challenges like flavor transfer, leaks and other mechanical issues and material compliance approvals.
The experts at Freudenberg Sealing Technologies custom design, test and supply hygienic, robust seals for the beverage industry that resolve these challenges and help customers handle a vast array regional drink preferences. The company understands that meeting a material specification does not guarantee a component's success. It offers customers a variety of globally certified sealing materials and testing capabilities that insure that they receive the best material-and-component combination to optimize equipment performance, ease cleaning and sterilization requirements and handle complex flavor and ingredient challenges.
"Flavors are almost never the same and the taste of a particular beverage is the identity for a company," said Patrick Scheib, Freudenberg's Director of Sales, Process Industry, in North America. "Our goal is to protect this brand value by providing extremely durable seals that have been meticulously tested for ingredient compatibility and flavor transfer, that can withstand aggressive cleaning solutions and cycles and that perform successfully in any beverage manufacturing environment."
Freudenberg offers a trio of globally-certified sealing materials – including its 70FKM727 low-temperature Fluorocarbon (FKM) material, its Fluoroprene® XP family of highly fluorinated premium materials and its 70 EPDM 291 material – that boast unique characteristics like improved temperature flexibility over conventional FKM materials, resistance to low- and high-ratio syrups, an ability to bond to metal or plastic and very good stability in acids, bases, polar solvents and Clean In Place / Sterilization In Place (CIP/SIP) media.
"Industrial drink processors and producers go to great lengths to ensure the purity of their beverages, whether they are fruit juices, varieties of mineral water, milk, beer or wine," Scheib said. "Extremely stringent hygienic requirements apply to filling systems and all their components, all the way from tube lines and connectors to seals to make sure that no dirt penetrates the filling operation and no fluids leak from the system."
Moreover, the challenge doesn't end in the production plant. At the point of sale, dispenser lines face similar issues. With many bars offering rotating taps with different offerings each season, or even each week, the materials used in the dispense system need to be tough to prevent flavor transfer from one beverage to the next. The materials also need to stand up to a myriad of ingredients, including fruit solids, and a wide range of temperatures without affecting performance or altering the taste of the drink.
"To protect against flavor transfer, it is important to understand a variety of complex factors, including the material science of different elastomer types, the selection and development of the rubber compound, and the various test methods used to measure fluid and temperature compatibility with this compound," said David Clark, Central Laboratory Operations Manager, Freudenberg-NOK Sealing Technologies. "When you account for these criteria in your testing, you develop a robust material that will perform well in whatever you decide to expose it to."
Freudenberg's extensive laboratory testing, which includes Compressive-Stress-Relaxation (CSR), flavor transfer/retention, state of cure, and analytical testing, set the company apart from competitors and help guarantee that its seals and components achieve their intended function the first time and every time, Clark added.
About Freudenberg Sealing Technologies
Freudenberg Sealing Technologies is a longstanding technology expert and market leader for sophisticated and novel applications in sealing technology and electric mobility solutions worldwide. With its unique materials and technology expertise, the company is a proven supplier for demanding products and applications, as well as a development and service partner to customers in the automotive industries and in general industries. In 2018, Freudenberg Sealing Technologies generated sales of about €2.3 billion and employed approximately 15,000 people. Freudenberg-NOK Sealing Technologies runs the business operations of Freudenberg Sealing Technologies (FST) in the Americas. More information at www.fst.com
The company is part to the global Freudenberg Group which has four business areas: Seals and Vibration Control Technology, Nonwovens and Filtration, Household Products as well as Specialties and Others. In 2018, the Group generated sales of approximately €9.4 billion and employed more than 49,000 associates in around 60 countries. More information is available at www.freudenberg.com.
Media Contact
Freudenberg-NOK Sealing Technologies
Cheryl Eberwein, Director, Media Relations
office: +1 734 354 7373
email: cheryl.eberwein@fnst.com
Freudenberg Sealing Technologies
Ulrike Reich, Head of Media Relations
Office: +49 (0)6201 80 5713
Email: ulrike.reich@fst.com
www.twitter.com/Freudenberg_FST
www.youtube.com/freudenbergsealing
https://www.fst.de/api/rss/GetPmRssFeed
More from Electrical Equipment & Systems