Freshpet Cuts Downtime and Increases Output with Automatic Splicing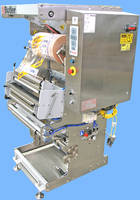 Leading pet food company to expand, will install second Butler Auto-splicer in new packaging line
When the engineering team at Freshpet, a manufacturer of fresh, natural pet food, wanted to improve production efficiency on one of their pet food manufacturing and packaging lines, they realized that one of the greatest sources of downtime and therefore lost efficiency was the time it took to change the packaging film rolls when they expired. In this particular line, it took operators at least 6-8 minutes to replace each roll of film, and the hand-spliced film often led to alignment issues and even greater downtime.
Freshpet reached out to the experts at Butler Automatic, the inventor and global leader in automatic splicing technology, for an automatic splicing solution. The splicer, installed by Butler Automatic in April 2015, has cut downtime to less than one minute per roll change, and Freshpet has ordered a second splicer for their upcoming facility expansion.
Freshpet Looks to Cut Downtime and Increase Productivity
Freshpet is a leading US pet food manufacturer, specializing in fresh, natural pet foods. As part of the company's product offerings, they manufacture refrigerated pet food in large flexible packaging tubes, known as "chubs." Both dog and cat food are available in these chubs, in sizes varying from one to six pounds.
Freshpet currently uses just one Oystar Chubmaker, a piece of packaging machinery that creates the signature chub shape, to package all of their products of this type. As a result, any downtime on this machine directly translates into lost potential sales. Freshpet was losing 6 to 8 minutes of packaging run time each time operators needed to change the flexible packaging film rolls on the Chubmaker; roll changes in this operation typically must take place every 35 to 60 minutes. The significant downtime on this packaging line was largely due to the awkward, heavy nature of the film rolls, as well as the need to partially rethread the machine each time a roll expired. The film rolls weigh anywhere from 25 to 40 pounds, depending on the product being packaged, making it difficult for operators to handle the rolls during changeovers. Additionally, the film is threaded through a folder within the Chubmaker equipment, which is used to create the folded, crimped ends of the chub packaging. This folder is highly sensitive to changes in film tension, and film would often become misaligned and require re-splicing after reaching the folder during manual roll changes.
After analyzing the issues in their chub packaging process, the Freshpet team decided that they needed a better splicing solution in order to improve the profitability of their packaging line.
Splicing Poses Affordable, Intuitive Solution
During PackExpo in November 2014, Freshpet's Engineering Manager Sam Torres saw a demonstration of the Butler Automatic auto-splicing technology, and recognized that it was the solution he had been searching for to reduce downtime and improve profitability on the Chubmaker line.
"I had seen Butler's automatic splicing technology before, and realized at PackExpo last year that this machinery could provide incredible value if installed on our Chubmaker packaging line," Torres said. Torres ordered a customized Butler Automatic SP1 Automatic Splicer in December 2014, and it was installed at the Freshpet facility in April 2015.
"Based on the film tension requirements of the Chubmaker, we requested that Butler build our automatic splicer with a built-in tension gauge in order to give our operators real-time feedback," he added. "They were able to accommodate that request, and installed our custom splicer this spring."
Mike Megaro, Regional Sales Manager at Butler Automatic, noted that Freshpet's concerns were similar to those of many food packaging companies, for both pet food and food for human consumption. "In many packaged food manufacturing facilities, splice downtime is one of the leading causes of decreased output, and automatic splicing one of the surest ways to improve output," Megaro said. "Additionally, the relatively low capital cost and small footprint of Butler splicers make them ideal ways to improve productivity, both in terms of ROI and ease of integration."
After installing the splicer, Torres noted that Freshpet's splicing downtime has been cut down from 6 minutes or more to less than one minute. The splicer also lowered the likelihood of issues at the folder due to web misalignment, further cutting downtime. It also reduces waste and rework on the line, as automatic splicing eliminates the 6-7 chub waste at the beginning of the film roll typical of manual splicing. These improvements have led to a 3-5% improvement in overall line output, depending on the product.
"Our cost savings vary, based on the product we're producing, from a little over $1100 a week to nearly $2500 a week, for a yearly savings total of between $60,000 and $130,000 per year," said Torres.
"The Butler machine has performed exactly as we had hoped it would, dramatically decreasing splice downtime," Torres added. "In fact, it has helped to illuminate other bottlenecks in our production line, now that the Chubmaker can easily keep pace with the rest of the line."
Torres added that the Butler splicer has been reliable, and that when, early on in the installation, the Freshpet operators were experiencing some difficulties in operating the splicer, Butler sent a service technician to help sort out the necessary machine parameters and provide operator training.
"The Butler splicer has even improved operator morale in our facility. While before, operators were stressed and rushing to perform roll changes, they can now take their time and still maintain line momentum," Torres said. "The flexibility of Butler's machine allowed us to tie in the splicer controls to our Chubmaker's HMI screen, as well as being present on the splicer itself. This gives our operators greater flexibility in controlling the execution of the splice, regardless of where they are standing, further reducing the stress of splicing."
Moving Forward and Expanding
Freshpet's success in selling its Fresh "Zero Preservatives dog & cat food products has outpaced its ability to produce them, and so the company is currently undergoing an expansion project to install two new packaging lines in its Bethlehem, PA plant. Both of these lines are scheduled to begin operation by the end of the first quarter of 2016. One of these is another chub packaging line, and Torres has already placed an order with Butler for a second automatic splicer.
"Including an automatic splicer in our packaging facility expansion project was an obvious choice, given the success of the first splicer in our current line," Torres said. "Additionally, we've used the feedback about bottlenecks that the Butler splicer enabled us to gather from our current packaging line to design a more overall-efficient line for the expansion project."
More from Mechanical Power Transmission