Fresh-Aire UV EDSS Disinfectant Systems help reduce Healthcare Acquired Infections (HAI).
Press Release Summary: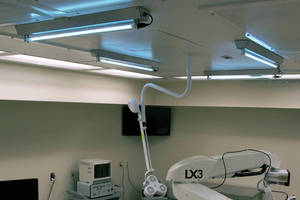 Having an ozone-free, 254-nanometer UV spectrum, and 12,000-hour lifecycle, Fresh-Aire UV® ESDS lamps help in irradiating potential HAI pathogens. With no moving parts, ESDS is a stationary, fully-automatic, hands-free disinfection solution. Presented in several sizes of dual or single power-coated white aluminum, ESDS lamps have Blue-Calc™ Software that can calculate real-time UV dosage and system placement for optimal performance.
---
Original Press Release:
Fresh-Aire UV® Introduces Surface Disinfection UV Light System for Healthcare Facilities
Fresh-Aire UV®, Jupiter, Fla., North America's leading manufacturer of UV, gas phase carbon media air filtration and PCO air purification products, has introduced the Environmental Surface Disinfection System (ESDS), a stationary ceiling-mounted ultraviolet (UV) light system for irradiating potential Healthcare Associated Infections (HAI) pathogens on high-touch surfaces.

The ESDS is a No-Touch-Disinfection (NTD), fully-customizable system designed for healthcare rooms and spaces requiring surface disinfection. The UV system complements conventional terminal cleaning practices used in disinfecting surgery suites, patient rooms and clean rooms in between occupied periods.

Versus mobile robotic UV methods, the stationary, fully-automatic hands-free disinfection solution has no moving parts, no maintenance needs other than quick and easy lamp replacement. The system is less susceptible to shadowing, requires no skilled technician or training and is considerably more cost-effective resulting in significant cost savings.

The product line consists of several sizes of dual or single power-coated white aluminum, commercial-grade fixture housings and lifetime warranty 120 or 230-volt power supplies. The fixtures range up to 60-inches-long and can be mounted in tandem for maximum disinfection dosage and coverage in any size room. The fixture installs quickly to any ceiling material or height and requires the same skills as conventional light fixture installation.

ESDS lamps have an ozone-free, 254-nanometer UV spectrum, 12,000-hour lifecycle, and a shatter-proof Teflon® bulb coating encapsulation option. Besides surface disinfection, the system also disinfects airborne biological contaminants that pass through the UV field via air convection. Typical disinfection cycles are between 10 to 20 minutes. The ESDS is third-party laboratory tested as 99.9999-percent effective against disinfecting a cross-section of different microorganisms.

Safety features include a programmable timer for activation only during unoccupied periods, an optional door-mounted interlock switch and infrared, motion and ultrasonic detectors that prevent accidental exposure. The ESDS can be combined with Fresh-Aire UV's Control Panel with a programmable logic controller (PLC) or it is customizable for control and monitoring by building management systems (BMS).

Other ESDS features are: Fresh-Aire UV's proprietary Blue-Calc™ Software can calculate and report "real-time" UV dosage and system placement for optimal performance; wall-mounting capabilities for unique applications; and a design that complements other good sanitation processes, such as manual disinfection methods by-hand.

Design assistance for engineers, contractors and maintenance staffs is available by the Fresh-Aire UV's engineering team for proper ESDS specifications, such as room orientation, layout, room equipment, placement, µW s/cm2 rates, targeted pathogen deactivation, coverage distances and other parameters critical for maximum surface and airspace disinfection protection.

The ESDS is based on the 28 years of UV disinfection experience of Fresh-Aire UV, the leading North American manufacturer of UV manufacturing and innovation.

For more information on Fresh-Aire UV and its full line of commercial and residential UVC, APCO and other IAQ products, please visit www.freshaireuv.com, call 1-(800) 741-1195 or email: sales@freshaireuv.com.

About Fresh-Aire UV®: Fresh-Aire UV® is a division of Triatomic Environmental Inc., Jupiter, Fla., a leading manufacturer and developer of germicidal UV light systems designed for commercial/industrial and residential HVAC systems and ice machines. Among their products is the patented Blue-Tube UV®, the first 24 volt low-voltage germicidal UV light for HVAC, which has become the most popular product of its type in the world. Fresh-Aire UV's revolutionary APCO® (advanced photocatalytic oxidation) system, which combines UV-C light with activated carbon cells for comprehensive odor, VOC and microbial control, was an International Innovation Award winner at the 2011 AHR Expo.

Fresh-Aire UV® systems are sold through wholesale HVAC/R distributors, specified by consulting engineers and installed/serviced by air conditioning contractors. Fresh-Aire UV® continually strives to engineer, develop and market products to meet the demand for a greener world and healthier environment. The UV products improve air quality, enhance the efficiency of HVAC/R systems and reduce maintenance costs

For more information please visit www.freshaireuv.com, call 1-(800) 741-1195 or email: sales@freshaireuv.com.
More from Architectural & Civil Engineering Products