Frequency Synthesizer suits complex timing networks.
Press Release Summary: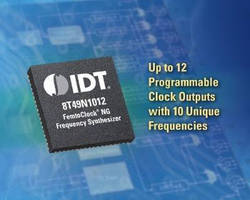 With 8 fractional and 2 integer output dividers, IDT® 8T49N1012 FemtoClock® NG offers single-chip solution that helps resolve complex timing requirements. Device features 12 configurable clock outputs and phase jitter performance of less than 500 fs RMS (12 kHz to 20 MHz). Output frequencies range from 8 kHz to 1 GHz differential, 250 MHz LVCMOS. Programmable through I2C interface, synthesizer supports master capability, allowing register configuration to be read from external EEPROM.
---
Original Press Release:

New Addition to IDT's FemtoClock Family Delivers Unparalleled Frequency Flexibility for Complex Timing Networks



The 8T49N1012 FemtoClock NG Synthesizer Provides 12 Configurable Clock Outputs, Providing a Single-Chip Solution for an Entire Clock Tree



SAN JOSE, Calif., – Integrated Device Technology, Inc. (IDT) (NASDAQ: IDTI), today introduced a uniquely flexible frequency synthesizer that hands the system designer options to pre-configure the settings of the device or program them in the system, or a combination of both. With an industry-first eight fractional and two integer output dividers, the IDT® 8T49N1012 FemtoClock® NG synthesizer delivers a single-chip solution that aids design engineers in resolving complex timing requirements while hitting important performance parameters.



The new timing product is ideal for advanced enterprise-class systems in networking and communications, as well as printing, computing, instrumentation, audio, video, backplane and USB applications. The flexibility and cost effectiveness of the device alone makes it ideal for virtually any general timing requirement.



"Clock trees generate and control the signals sent throughout today's advanced electronic systems, and it is essential that these timing devices deliver highly synchronized top-tier performance," said Kris Rausch, general manager of IDT's Multi-Market Timing Division. "With the flexibility built into the 8T49N1012, our customers can use a single device to generate essentially any clock needed for most applications, minimizing board space occupation, BOM and component count.  The in-system configurability of this 12-output clock generator allows it to be portable from one design to the next, further reducing cost of ownership and time to market."



The 8T49N1012 is programmable through an I(2)C interface and also supports master capability, allowing the register configuration to be read from an external EEPROM.  This capability is beneficial in providing a means for system quick recovery upon resolution of a general system fault. In addition, programmable skew control on all eight fractional outputs allows for easy in-circuit trace delay adjustments.



IDT's Timing Commander™ software tool enables fast and easy reconfiguration of the device, which aids engineers when dealing with overall design iterations.



Key features include:



--  A total of 12 differential or 2x12 in-phase LVCMOS clocks

     --  Fractional output dividers provide up to eight completely independent frequencies with better than 1ppb accuracy

     --  Two integer output dividers provide an additional four outputs

--  Excellent phase jitter performance of  less than 500 fs RMS phase jitter (12 kHz to 20 MHz)

--  Output frequencies from 8 kHz up to 1 GHz differential, 250 MHz LVCMOS

--  Flexible input options

     --  10 to 40 MHz fundamental mode crystal

     --  Reference input from 10 to 600 MHz

--  Skew control on all fractional output dividers allow for adjustments in steps as small as 16ps

--  Loss of Lock and Loss of Signal status outputs

--  Bypass clock paths and Reference Output for system tests



Pricing and Availability

The 8T49N1012 FemtoClock® NG synthesizer is available in a 10 x 10 mm 72-VFQFN package. Pricing is $4.60 each in 10K lots.



About IDT

Integrated Device Technology, Inc. develops system-level solutions that optimize its customers' applications. IDT's market-leading products in RF, timing, wireless power transfer, serial switching, interfaces and sensing solutions are among the company's broad array of complete mixed-signal solutions for the communications, computing, consumer, automotive and industrial segments. Headquartered in San Jose, Calif., IDT has design, manufacturing, sales facilities and distribution partners throughout the world. IDT stock is traded on the NASDAQ Global Select Stock Market® under the symbol "IDTI." Additional information about IDT is accessible at www.IDT.com. Follow IDT on Facebook, LinkedIn, Twitter, YouTube and Google+.



IDT, FemtoClock and the IDT logo are trademarks or registered trademarks of Integrated Device Technology, Inc. All other brands, product names and marks are or may be trademarks or registered trademarks used to identify products or services of their respective owners.



IDT Press Contact:

Dean Solov

Public Relations Manager

Phone: (408) 284-2608

E-mail: dean.solov@idt.com



Web Site: http://www.IDT.com

More from Electrical Equipment & Systems