Frequency Meter features 0.05 Hz to 1 MHz frequency range.
Press Release Summary: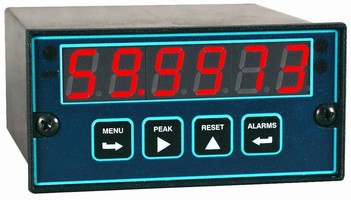 Laureate Model FR 6-digit panel-mount meter can display ac line frequency to 50.0000 or 60.0000 Hz with 0.0001 Hz resolution in few ac line cycles. Frequency signals in kHz range can be read with 0.01 Hz accuracy at up to 25 readings/sec. UL-listed unit's dual-channel signal conditioner can accept signals from proximity switches with PNP/NPN output, TTL/CMOS logic, magnetic pickups, contact closures, and other signals from 12 mV to 250 Vac.
---
Original Press Release:

6-Digit Panel Meter Takes 6-Digit Rate and Frequency Readings at up to 25 Times per Second



Costa Mesa, CA - Laurel Electronics, Inc. announces the Laureate Model FR, a 6-digit panel-mount frequency meter which can display AC line frequency to 50.0000 or 60.0000 Hz with 0.0001 Hz resolution in a few AC line cycles. Frequency signals in the KHz range can be read with 0.01 Hz accuracy at up to 25 readings/sec. The working frequency range is 0.05 Hz to 1 MHz. Reading accuracy is that of a calibrated quartz crystal.

The Laureate FR can also serve as a fast and flexible scalable rate meter to display rate or flow in engineering units, such as gallons per minute or feet per second. Rate is obtained by multiplying frequency by a programmable scale factor and setting the decimal point.

The Laureate FR determines frequency by timing an integral number of quartz crystal periods over a user-specified extendible gate time, and then taking the inverse of period. The inverse period approach allows greater accuracy and faster update times than conventional meters which count signal pulses over a specified time interval. Fast response is ideal for alarm and control, and for computer interface.

The unit's universal dual-channel signal conditioner can accept signals from proximity switches with a PNP or NPN output, TTL or CMOS logic, magnetic pickups, contact closures, and other signals from 12 mV to 250 Vac. Jumper selections provide optimum operation for different sensor types and noise conditions.

The Laureate Model FR Frequency and Ratemeter is UL-listed. Applications include AC power line monitoring, display of flow rate from turbine flow meters, display of RPM or speed from magnetic pickups or proximity switches, and timing applications with resolution down to 0.2 µs.

A built-in isolated 5, 10, or 24 Vdc excitation supply is standard to power proximity switches and other sensors. Options include dual relays for control or alarm, isolated 4-20 mA and 0-10V analog outputs, and an RS232 or RS485 port for data communications with a host computer or PLC. Modbus RS485 is fully supported.

The base price is $220. For product specifications and the pricing of options, visit www.laurels.com/frequency.htm.

For more information, contact
Jim Way,
VP Sales & Marketing,
phone: 866-709-7713 or 714-434-1631,
email sales@laurels.com.

Founded in 1990, Laurel Electronics, Inc. is a leading U.S. manufacturer of programmable industrial digital panel meters, counters, timers, and DIN rail transmitters.

Company Information:
Name: Laurel Electronics, Inc.
Address: 3183-G Airway Ave.
City: Costa Mesa
State: CA
Zip: 92626
Country: USA
Phone: 866-709-7713 (toll free)
Fax: 714-434-3766 4
Web: www.laurels.com
Email: sales@laurels.com

More from Sensors, Monitors & Transducers