FreeZone® Triad(TM) Benchtop Stoppering Tray Dryer and Lyophilizer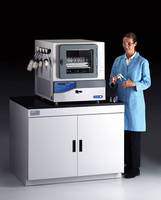 The FreeZone Triad Benchtop Stoppering Tray Dryer and Lyophilizer has four valves to allow lyophilization in flasks simultaneously with samples in the tray dryer, making this a true multi-purpose freeze dry system.

The chamber pre-freezes samples on the shelves eliminating the need for a separate freezer and product transfer. The collector reaches -85ºC and has a 2.5L ice holding capacity. The Tray Dryer has a built-in pneumatic stoppering mechanism that stoppers vials under vacuum. Compressed gas is not required. One temperature probe monitors product temperature. The shelf temperature ranges from -75ºC in pre-freeze mode to +50ºC for secondary drying. A 1/8" OD backfill port introduces sterile air or inert gas before vials are stoppered thereby protecting samples from atmospheric moisture and contaminants.

Two ½ CFC-free and HCFC-free refrigeration systems are used in series to cool the collector to -85ºC (-121ºF), ideal for samples with low eutectic points. They work in concert with a 1000-watt heater to cool and heat fluid medium circulating through channels in the shelf.

A rear-mounted RS-232 port transmits data to a user-supplied computer. Transmission intervals may be user-configured for 10, 20, 60, 300 or 600 minutes.

Find out more about the many exclusive features of the FreeZone Triad Stoppering Tray Dryer at our website at www.labconco.com.


More from Mechanical Power Transmission