Freeze/Thaw Chambers Now Offered by Caron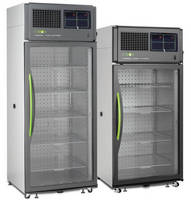 Freeze/Thaw Chambers now offered by Caron

(Marietta, OH) Caron continues to increase its wide range of product offerings by introducing a large capacity Freeze/Thaw series of chambers. The Freeze/Thaw Chambers come in 25 and 33 cu. ft. sizes. They precisely control a wide range of temperature and (optional) humidity settings.

Ramp and soak deluxe controllers come standard and allow the user to program a specific profile needed for their application. The automatic and versatile cycling between setpoints enables rapid simulation of the real world conditions sientists need to replicate freezing and thawing during product testing

"For years, Caron has supported the pharmaceutical, coating, adhesive and construction materials testing industries with precision equipment," Bob Dotterer, Applications Engineer said. "Introducing the Freeze/Thaw Chamber was a natural product extension to provide our customers more flexibility with a wider range of testing conditions."

Caron's Freeze/Thaw Chambers control a broad temperature range of -25°C to 70°C and an optional humidity range from 20 to 98 percent, which offers the flexibility to simulate a broad range of climatic conditions.

Based on Caron's platform of newly design products, these chambers offer earth friendly innovations, which reduce energy consumption and utility expenses, coupled with customer convenient features. These new chambers serve a wide range of thermal cycling applications.

"Any material exposed to the outdoor elements is subjected to the harsh environmental conditions of freezing and thawing as the temperature naturally fluctuates," Dotterer said. "Aggressive, proactive companies anticipate this abuse and test the integrity of their product before customers put it to the test. Our new product line enables customers to perform thermal cycling much quicker and easier than conventional testing."

To learn more, visit www.caronproducts.com or call Customer Service at 800-648-3042.

About Caron:

Caron Products & Services, Inc. is a Marietta, Ohio based manufacturer of environmental chambers for temperature and RH exposure testing; photostability chambers to conform to ICH Guidelines Q1B; Benchtop and Reach-in CO2 incubators for small to large scale, high volume cell culture; and baths/circulators for precise temperature control of laboratory devices. For more information on Caron, visit our website at www.caronproducts.com, contact us at 800-648-3042, fax 740-374-3760, or e-mail sales@caronproducts.com.

More from Fluid & Gas Flow Equipment