Freeze Dryers suit pilot research applications.
Press Release Summary: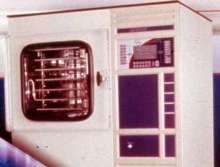 Developed with choice of options and add-ons, Genesis Freeze Dryers can be designed to meet specific application needs. Units feature chemical-resistant, 316L stainless steel chamber shelves and condenser chambers, and 4 in. dia vapor port. Optional 8 in. dia port is available to simulate production scale-up configurations. Range of control options are offered, from manual controls to cGMP data monitoring and automation applications for 21 CFR Part 11 requirements.
---
Original Press Release:
Genesis Freeze Dryers Offer Versatility for Pilot Research or Small Scale Production Applications

Genesis freeze dryers offer outstanding versatility for pilot, research, or small scale production applications. Part of the VirTis product line, these freeze dryers incorporate the technology and experience associated with the VirTis name. Developed with an extensive choice of powerful options and add-ons, Genesis allows users to design the freeze dryer to meet specific application needs including a design for clean room installations. It features a wide range of control options from manual controls to the latest cGMP data monitoring and automation applications for 21 CFR Part 11 requirements. Genesis allows for easy scale-up from research to full scale production. The controls and features are identical to those used in performance matched VirTis brand industrial lyophilizers. This versatility makes Genesis an ideal choice for researchers in universities, biotechnology companies, tissue banks, pharmaceutical companies, government agencies, and industrial manufacturers.

Genesis chamber shelves and condenser chambers are made of chemical resistant 316L stainless steel. Units come with a standard 4" diameter vapor port, with an optional 8" diameter port available to simulate any production scale-up configuration. Over 100 flexible configurations are available to meet the needs of virtually any processing requirements. A new full color brochure on the Genesis series is available.

For more information, call 800-431-8232, visit our web site at www.virtis.com, or write SP Industries, 935 Mearns Rd., Warminster, PA 18974.

SP INDUSTRIES

SP Industries is a leading manufacturer of specialty glassware, environmental control chambers, glassware washers and dryers, and laboratory-to-production scale lyophilizers. The company, which sells its products under the following well-known brands: Wilmad-LabGlass, Hotpack, Virtis, and Hull, is structured along two distinct business lines and two product groups. The product groups are equipment and glass. The business lines are laboratory and industrial. This approach allows SP Industries to offer its customers a fully integrated package of products and services. SP Industries has made very significant investments in facilities, infrastructure, training, and people. The company has a clearly defined vision for the future that includes focusing on core competencies and developing exciting new products and services geared to meeting the demands of those markets.

The company's four glass operations are combined in one business unit located in New Jersey. The equipment line is operated from two facilities, one in Warminster, Pennsylvania and one in Gardiner, New York. Both of these facilities are ISO 9001:2000 registered. Corporate headquarters and some manufacturing operations are housed in a 75,000 square foot facility in Warminster. In addition, the company continues to invest heavily in validation and commissioning competencies. With the ongoing requirements of 21 CRF Part 11 and the emergence of GAMP 4, SP Industries is uniquely positioned as the leader in compliance and GAMP 4 commitment.

SP TechCare, the service arm of SP Industries, is structured to be highly responsive to customers. Staffed to provide after-the-sale support for all SP products, SP TechCare can respond quickly to equipment service needs. Experienced personnel offer technical assistance to help customers meet new guidelines, save time, increase productivity, simplify tasks, or reduce costs.

SP Industries, 935 Mearns Road, Warminster, PA 18974; Tel: 800-523-2327; FAX: 215-674-9829; www.SPindustries.com.
More from Paints & Coatings