FREE Powder Sample Testing in Five New Brookfield Powder Labs!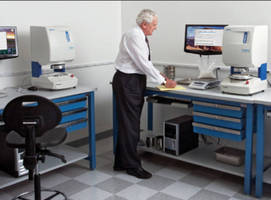 Brookfield Engineering has established new Powder Testing Labs in Boston, Massachusetts, USA, Harlow Essex England, Lorch Germany, Guangzhou China, and Mumbai India. Brookfield developed these labs in response to increasing customer demand for rapid evaluation of powder behavior and flowability.

Customer samples are tested using Brookfield's PFT Powder Flow Tester for Flow Function, Wall Friction and Bulk Density as a function of consolidation stress. Shear cell methodology is the technical approach used to test all customer samples in accordance with ASTM D6128, D6682, and D6773. An environmental chamber is available for controlling humidity and temperature as required.

The testing is completed within five business days and the results are emailed to the customer. These reports enable the customer to see actual data which can be used to improve their process by characterizing powders with flow aids, and serve as a reference for future powder formulations.

Brookfield offers the first three Powder Sample Tests for free with a nominal charge for additional sample testing. Customers are also given the opportunity to use the PFT at their facility for a one week trial period.


More from Electronic Components & Devices