Pressure Sensors / Detectors / Transducers
Free Form Sensor Systems measure dynamic pressure.
Press Release Summary: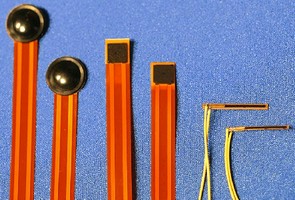 Tactilus® dynamic electronic pressure mapping systems consist of up to 16 multi-channel tactile surface sensing points that can detect pressures up to 60 psi, coupled with electronics and USB interface. Running on laptop computer, software allows user to customize for 2-D and 3-D imaging, region-of-interest viewing, longitudinal and latitudinal analysis, graphical displays of data, pressure vs time, line scan, histogram and isobar charts, and statistical analysis of pressures.
---
Original Press Release:

Sensor Products Launches Tactilus Free Form Sensing Points



New Product is the Most Versatile and Economical Option Available for Dynamic Pressure Measurement

Madison, NJ - May 23, 2006 - Sensor Products LLC announces the expansion of its Tactilus® line of dynamic electronic pressure mapping systems with the introduction of its free form sensor systems. The systems consist of up to 16 individual sensing points that can detect pressures up to 60 PSI (4.21 kg/cm²) coupled with simple electronics and a USB interface. These sensors can be used independently or assembled in a matrix in order to allow the user the flexibility to move from one application to the next without the need for a new system. The Free Form sensor systems are ideal for diverse applications such as biomechanics, PCB manufacture and polishing, clamping, door seals, ergonomics, heat seals, LCD bonding, nips, presses, switches, lamination and more.

In most applications, engineers need a versatile off-the-shelf tool that can profile equipment for R&D, design, quality control, troubleshooting and maintenance processes. This need for a flexible tool is what has driven the development of these systems. In addition, while they are the most cost efficient pressure profiling sensing systems available, they maintain the unmatched accuracy and reliability of Tactilus®.

The software allows for direct pressure readings without the need for calibration and pressure versus time tracking, which can allow not only a reading of pressure but actual real-time analysis of two contacting surfaces. The software is also customizable by Sensor Products to display matrix configurations defined by the client. This allows the user to provide a display for their application and enables pressure interpolation between the points. Because of the many different sizes of sensors and pressure ranges, the company offers solutions for a wide variety of applications all based on the same Tactilus® software platform.

"These new Free Form sensing points are unique because of their versatility and most importantly, their functionality," said product manager Jason Blume. "Engineers now have a viable and extremely adaptable technology for measuring pressure quickly, accurately and economically."

The Tactilus® Free Form sensing systems are multi-channel tactile surface sensing points that come equipped with all components necessary to collect data for comprehensive analysis, including up to 16 individual sensors that are customizable from 0.04" x 0.04" (1 mm x 1 mm), electronics controller and Windows-based Tactilus® software. The sensors themselves are inexpensive and can be sold separately to provide the client with various types of solutions and a means of interfacing existing equipment with new technology.

The Free Form sensor systems include robust sensors that can endure hundreds of uses with consistent repeatability, and are highly resistant to electromagnetic noise, temperature, and humidity fluctuations. Running on a standard laptop computer, the full-scale software allows users to customize for 2-D and 3-D imaging, region-of-interest viewing, longitudinal and latitudinal analysis, graphical displays of data in bar, pressure vs. time, line scan, histogram and isobar charts, statistical analysis of average/minimum/maximum pressures, total force over any selected area and more. The data may also be exported to virtually any third-party software. Additionally, the sensors are conformable to highly curvaceous surfaces and are durable for use in tough environments.

The systems are available for lease or purchase. Demonstrations can also be scheduled by contacting Sensor Products at 1.973.884.1755, tactilus@sensorprod.com or by visiting www.sensorprod.com/tactilus.

About Sensor Products LLC
New Jersey-based Sensor Products LLC, established in 1990, is a world leader in the manufacture and distribution of tactile pressure sensing solutions. Their customized and off-the-shelf products are installed within all of the Fortune 500 industrial companies as well as thousands of smaller manufacturing firms. Their sensors are used in applications as diverse as tire testing to semiconductor manufacturing and from R&D labs to space missions. Additionally, Sensor Products provides in-house and on-site stress and pressure mapping analysis, as well as a variety of regional technical seminars. Visit them at www.sensorprod.com.

Technical Contact:
Jason Blume
Product Manager
Sensor Products LLC
300 Madison Avenue
Madison, NJ 07940 USA
1.973.884.1755 x5003
Fax: 1.973.884.1699
jblume@sensorprod.com
www.sensorprod.com

More from Sensors, Monitors & Transducers