Free Desiccant Rotor Test Kits!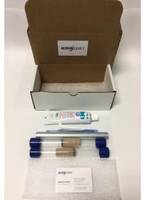 Rotor Source is providing Free Desiccant Testing Kits to anyone who is interested in testing the current performance of their Desiccant Rotors.
Simply reach out to Andrew Goland (contact info below) to request your kit. Rotor Source will then mail you the necessary equipment to collect a sample of your rotor. The instructions are easy to follow and the entire process takes less than 5 minutes.
Once you've collected the sample and followed the kits instructions, simply mail the kit back with the provided shipping label, and Rotor Source will test your rotor's performance free of charge! The kit has everything you'll need and don't worry, we even include a high-quality media plug to ensure that taking a sample does not disrupt your rotor's current performance.
For More Information, contact:
Andrew Goland
17444 Opportunity Ave.
Baton Rouge,LA
225-250-1064
agoland@rotorsource.com
Related