Framing System uses alloy 6005T6 for higher strength.
Press Release Summary: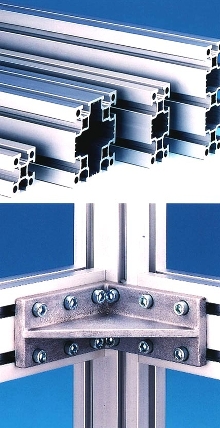 Aluminum-profile Series 60, for machine support, linear motion, frame building, and material handling applications, is based on 60 x 60 mm cross-sections. Profiles up to 120 x 240 mm can be complemented by foam-filled combination profiles for cross-section dimensions of 420 x 240 mm. T-Slots permit use of M12 connecting elements, withstanding 2.5 times load of customary M8 screw joints. Alloy 6005T6 provides 10% higher stiffness than more commonly used alloy 6063T6.
---
Original Press Release:
Aluminum Precision Framing System Challenges Steel

A new aluminum profile framing system - Series 60 - designed for heavy-duty machine support, frame-building, linear motion and material handling applications is being introduced by mk(R) Automation, Inc. of Bloomfield, CT.

The new Series 60 Profiles are based on a 60x60 mm cross-section with multiples thereof. Besides offering all the advantages of other mk® profiles like high quality alloys, strong surface treatment, removable connections and pleasing aesthetics, Series 60 allows for extreme loading with respect to torsion and deflection, which was heretofore the hallmark of labor-intensive steel constructions. Series 60 becomes the largest and heaviest profile series in the wide mk® product range. This lineup of large profiles from 60x60mm up to maximum 120x240 mm can be further complemented by foam-filled combination profiles for external cross-section dimensions of 420x240mm. Standard profile lengths are 5100mm with longer lengths available on request. Profile Series 60 framing options are supported by a wide range of assembly components, including: angle brackets, gussets, leveling pads, base plates, hinges, end caps, T-slot closures and cosmetic dress or safety covers. All Series 60 joints are fastened with M12 screws and special nuts, which may be located anywhere along each section's 14-mm wide T-slots. Series 60 Profile joining angles with M12 bolts, can support a vertical load of 575kg.

Design features Series 60:

* High geometrical moments of inertia
* Use of alloy 6005T6 versus the more commonly used alloy 6063T6 resulting in a 10% higher stiffness.
* 14mm T-Slot permits the use of M12 connecting elements withstanding 2.5 times the load of customary M8 screw joints.
* Size and capacity possibilities extendable through foam technology
* Compatible with existing mk® Series 25, 40 and 50 profiles

mk® Automation, Inc. is the North American affiliate of one of the world's best recognized firms dedicated to engineering
and producing high quality modular aluminum profile systems. The selection encompasses over 270 distinct profile shapes in four series, as well as over 2700 different assembly components. Using it's modular profile system as the platform mk® also offers a broad line-up of conveyor automation, linear motion and material handling solutions for diverse manufacturing situations.

for further information:
John Van Kooten
mk® Automation, Inc.
105 Highland Park Drive
Bloomfield, CT 06002
www.mkprofiles.com
e-mail: info@mkprofiles.com
Tel(860)769-5505

More from Architectural & Civil Engineering Products